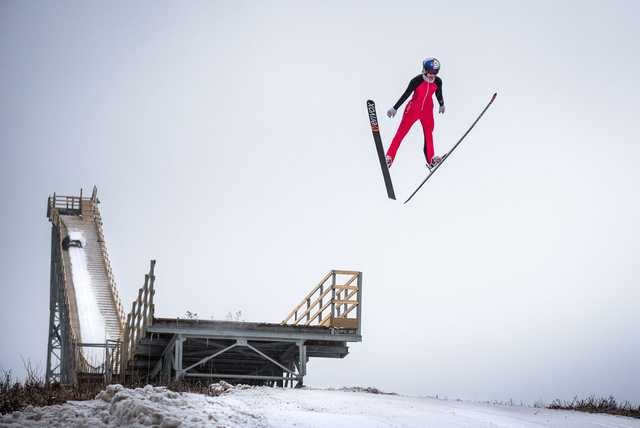 2014 US Olympian Sarah Hendrickson Jumps off of Nansen Ski Jump in Berlin New Hampshire (photo Courtesy of the Union Leader)
Berlin, NH – The oldest 90 meter ski jump in America was brought back to life this weekend. Yesterday morning Red Bull extreme athlete and 2014 US Olympian Sarah Hendrickson of Park City Utah jumped the historic Nansen Ski Jump. This was the first jump of the oldest 90 meter ski jump in America in over 30 years.
The jump was originally scheduled to take place Saturday but due to the warm weather things were postponed. Groomer Alan Alborn worked tirelessly to get snow to stay on the landing hill. Alborn and volunteer crews worked all day Thursday to hand place snow on the jump and set the track. They also worked all day Friday to get everything all set for the jump.
Before 22-year-old Hendrickson jumped 13-year-old Anna Hoffman alos of Park City Utah made test jumps. Following the jump Sarah and Anna met the crowd and signed autographs.
The over all goal of the Friends of the Nansen Ski Jump Committee is to complete rehabilitation of the jump including the judges building, stairway, landing hill and interpretive signage and to obtain National Historic Landmark designation. The Nansen Ski Club was founded in the 1880s and is the oldest ski club in America.