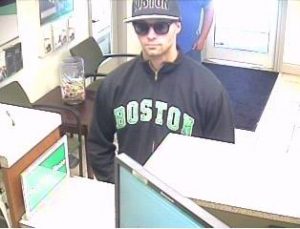 UPDATE: The man suspected of robbing a bank in Ossipee is under arrest. Later Wednesday Moultonborough police stopped a vehicle matching the get away vehicles description and took the driver into custody on unrelated charges. Soon after Ossipee Officers joined the Moultonborough Police to further investigate, and have now charged the driver 27-year-old William Cropsey of Rochester New York with the robbery. The investigation is still on going and anyone with information is asked Ossipee police at 539-2011.
Ossipee, NH – Ossipee Police are searching for a suspected bank robber who held up the Citizen's Bank on route 16 in Ossipee around 1 o'clock Wednesday. According to Ossipee Police the suspect entered the bank, and handed the teller a note demanding cash. No weapon was shown or threatened.
He is described as being a white man about 20- to 25-years-old and was last seen wearing sunglasses, a black hoodie with green letters spelling Boston, a black hat, and tan pants.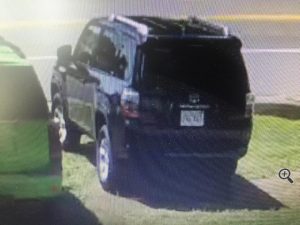 After holding up the bank, the suspect fled in a black Toyota Highlander SUV headed South bound on route 16. Anyone with information about the robbery is asked to call the Ossipee police at 539-2011.