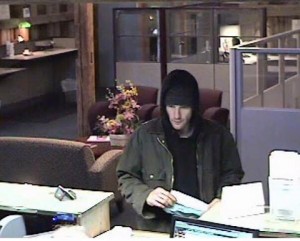 (Photo Courtesy of Ossipee Police)
Ossipee, NH – The Ossipee Police are looking for the publics help in identifying a suspected bank robber. At approximately 10:20 this morning, the Ossipee Police Department responded to a reported robbery at the Northway Bank, in West Ossipee.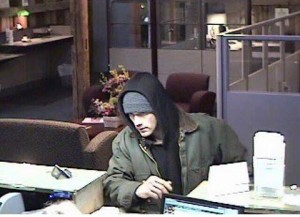 (Photo Courtesy of Ossipee Police)
Authorities say a man entered the bank, and handed a note to a teller. The note threatened that he had a gun, and demanded cash. No gun was brandished. The suspect fled on foot with an undisclosed amount of cash, and may have fled in a vehicle nearby.
Surveillance footage shows a male suspect, wearing what appears to be a green jacket, with a black hooded sweatshirt and grey knit hat.  Anyone with any information on the robbery is asked contact the Ossipee Police at 603-539-2284.