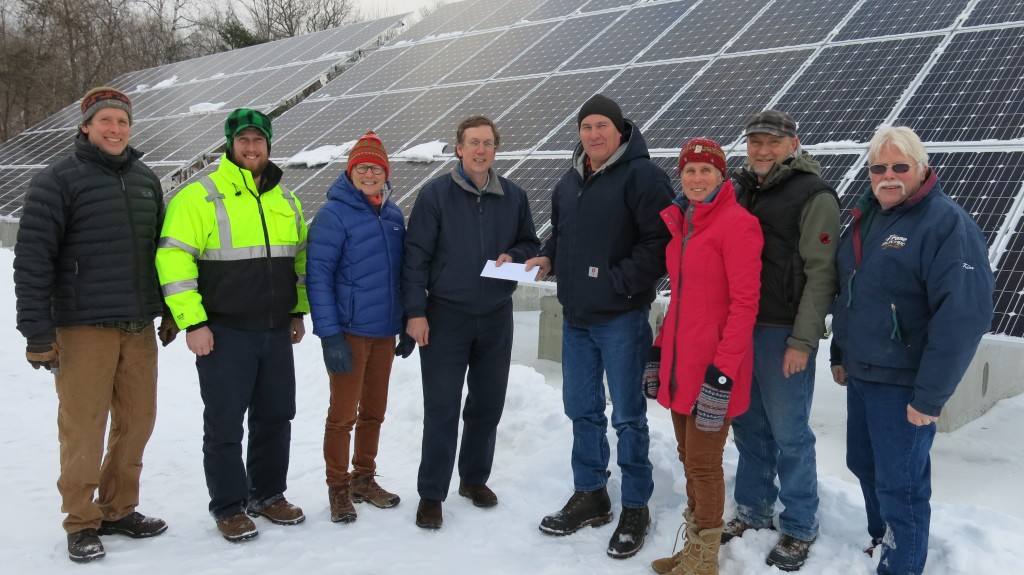 PLYMOUTH, NH – A coalition of energy-minded locals has turned an empty lot in Plymouth into one of the largest solar electric arrays in the state, creating a model partnership for future projects.
The ground mounted 121-kilowatt system consisting of six rows of 440 solar pv panels is online and projected to generate a quarter of the annual electric needs of the Plymouth Village Water & Sewer District (PVWSD), taking a serious chunk out of the District's annual electric bill, which last year totaled nearly $70,000.
"It's been a wonderful partnership with lots of interest and lots of public support," commented Sandra Jones, Director of the Plymouth Area Renewable Energy Initiative (PAREI), which, with help from New Hampshire Electric Cooperative (NHEC), helped guide the project from concept to completion.
PAREI and PVWSD worked in partnership to secure a $317,000 grant from the state's Renewable Energy Fund administered by the NH Public Utilities Sustainable Energy Division. After filing an initial application in 2012, PAREI and PVWSD were awarded the grant on their second go-around in December of 2013 with a completion goal of December 2014.
"We put together an outstanding team of solar installers to get the work done and the staff at the Water and Sewer Treatment Plant assisted with some of the prep work too," said Jones.
In addition to administering the grant, PAREI provided a local in-house work crew to conduct site work and assist with the assembly of the ballasted solar racking.  Mauchly Electric of Plymouth provided installation, grounding and wiring of the solar photovoltaic modules. Frase Electric of Sandwich assisted with the design of the system, installed the inverters and completed all of the AC wiring to the meter that records the Renewable Energy Certificates that are generated by the system. Many New Hampshire businesses also participated or supplied goods for the project including Ashland Lumber, Dekal, Latulippe Construction, Michie Corporation, Needham Electric, Rand's Hardware, Electrical Engineer Lee Consavage and Provan and Lorber Engineer and Planners. The solar panels, racking, ballast and many of the miscellaneous hardware were made in America.
The project cost was further offset by an incentive provided by NHEC, which seeks to support the growth of renewable energy in its service territory via its Social & Environmental Responsibility programs.
According to Scott C. McNeil, NHEC Energy Solutions Program Administrator, the solar array is expected to produce upwards of 145,000 kilowatt-hours of electricity annually. On January 8, 2015 – a cold, sunny day – the array generated 446 kWh in a single day. That's enough to power a typical New Hampshire home for a month.
"NHEC is proud to be part of the group that got this project funded and built," McNeil said. "It's a community-based model that works well for municipalities and schools as well."