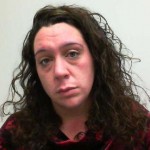 Brooke Watt, Courtesy Conway P.D.
CONWAY POLICE ARE ASKING FOR THE PUBLIC'S HELP IN FINDING A 31-YEAR-OLD NORTH CONWAY WOMAN.
LT. CHRIS PERLEY SAYS NEW HAMPSHIRE STATE POLICE HELPED HIS OFFICERS EXECUTE A SEARCH WARRANT EARLIER APRIL 11, 2013 AT A RESIDENCE AT 80 KEARSARGE WOODS LANE IN NORTH CONWAY BEING RENTED BY BROOKE WATT.
PERLEY SAYS THE SEARCH IN TURNED UP SEVERAL ITEMS OF INTEREST, INCLUDING PROPERTY ALLEGEDLY STOLEN FROM A RESIDENCE IN YORK, MAINE.
WATT IS BELIEVED TO BE LIVING WITH FRIENDS IN THE MANCHESTER,NEW HAMPSHIRE AREA – AND A WARRANT HAS BEEN ISSUED FOR HER ARREST.
ANYONE WHO SEES HER OR KNOWS WHERE SHE IS, IS ASKED TO CALL CONWAY DETECTIVES AT (603) 356-5715.