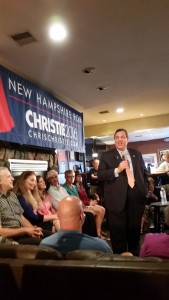 Conway, NH – Republican Presidential hopeful and Governor of New Jersey Chris Christie was in North Conway this morning. Governor Christie held a town hall that packed Horsefeathers Restaurant as part of his North Country Tour. During the Town hall he highlighted his 12-point entitlement reform plan, which includes increasing the retirement age by 2 years over a span of 25 years, as well as means testing social security. He also talked about simplifying the tax code for both individuals and businesses in order to cut federal spending.
When he opened up to questions he was asked about multiple issues.
When asked about immigration reform he said that his 5 point plan would involve building fencing and walls in the urban areas of the boarder, and improve technological surveillance in the rural areas. He also spoke of using E-verify and fingerprints to track visitors from other countries here on Visa's in order to be sure they return to their home countries when their visa's run out.
When asked about student loan debt, Governor Christie spoke about the differences between when his wife graduated college and now when his kids will soon graduate. He said that the interest rates should be reflective of what the current federal interest rate is. Adding that if elected he would try to make it so that higher education institutions would have to provide a listing of where the tuition money is going when students get the bill, likening it to a receipt you would get at restaurant.
Audience members also questioned him about the FED, unemployment, the state of the Military, as well as healthcare reform. In response to healthcare Christie said he wants to repeal the affordable care act and replace it with a system where each state governs their own federally approved systems.
For a full look at Governor Christie's Positions on the Issues Log on to his website Chrischristie.com