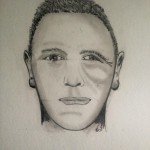 "PERSON OF INTEREST" COURTESY WOLFEBORO P.D.
POLICE ARE OFFERING A REWARD OF $10,000 FOR HELP IN IDENTIFYING A MAN WHO MAY HAVE BEEN A WITNESS OR MAY KNOW ABOUT THE SEXUAL ASSAULT OF A YOUNG WOMAN IN WOLFEBORO ON OCT. 20, 2013.
WOLFEBORO POLICE HAVE RELEASED A SKETCH OF THE MAN, WHO IS BETWEEN 20 AND 30 YEARS OLD AND HAS A NOTICEABLE DROOP BELOW HIS LEFT EYE.
AN OFFICER WITH THE WOLFEBORO POLICE DEPT. SAYS THERE IS NO EVIDENCE LINKING THE CASE TO THE DISAPPEARANCE OF 15-YEAR-OLD NORTH CONWAY TEENAGER ABIGAIL HERNANDEZ, WHO HAS NOW BEEN MISSING FOR MORE THAN TWO MONTHS.
NEW HAMPSHIRE STATE POLICE AND THE CARROLL COUNTY ATTORNEY'S OFFICE ARE ALSO INVESTIGATING THE INCIDENT IN WOLFEBORO.
ANYONE WHO KNOWS ANYTHING ABOUT IT OR RECOGNIZES THE MAN IN THE SKETCH IS ASKED TO CALL WOLFEBORO POLICE AT (603) 569-1444.