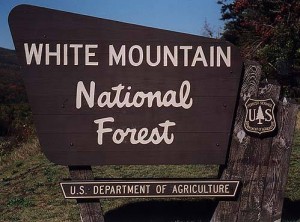 Randolph, NH – Three people are safe thanks to teamwork and the help of good Samaritans after two simultaneous rescue missions in the White Mountains Saturday. On Saturday (November 27) at around 5:20 pm New Hampshire Fish and Game Department Conservation Officers were called after two hikers went missing on Mt. Madison in the town of Randolph. According to the caller, their group of four had separated at the summit of Mt. Madison earlier in the day, but that two of the members had not returned to their vehicle when it started to become dark.
Using two-way radios and information from a passing hiker, the calling party determined that their missing companions were most likely on the Pine Link Trail, a route that would not bring them back to their vehicle. The situation was further complicated by the fact that the missing hikers had forgotten to pack lights, leaving them little option once fully overcome by darkness.
The Conservation Officers directed the group in the parking lot to hike up the Pine Link Trail with lights to locate their friends. The group was able to reunite on the Pine Link Trail and hike out safely together, arriving roadside at approximately 8:30 PM.
While the first rescue was beginning to be organized Conservation Officers received another call about an ice climber who had fallen near Pinicle Gully in Huntington Ravine, Mt. Washington. A group of good samaritan climbers came to the aid of 37-year-old David Fogg of Enfield, NH who had sustained a leg injury during the fall. Conservation Officers spoke to the victim and the climber who had come to his aid, and it was determined that the climbers would attempt to self-rescue. After several hours of hard work, the victim and rescue party had only covered a fraction of the 3-plus mile hike that they would need to complete to get out of the woods.
Conservation Officers along side staff from the Appalachian Mountain Club Hermit Lake Shelter and a climbing partner of Mr. Fogg assisted with the rescue effort. Conservation Officers located Mr. Fogg and the rescue party approximately a quarter of a mile above the Harvard Cabin on the Huntington Ravine Trail. Utilizing a small number of rescuers and a litter acquired from an emergency cache, Mr. Fogg was carried overland to an ATV that officers had staged on the Sherburne Ski Trail.
Mr. Fogg was subsequently brought down the mountain on the ATV, arriving safely at the AMC Pinkham Notch Visitor Center at 12:30 AM on the morning of November 29, 2015. Mr. Fogg was found to be prepared with good gear, having only been hindered by unexpected circumstances.