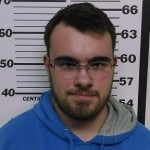 Police in Fryeburg, Maine say a 19-year-old Fryeburg man has been arrested and charged in connection with a string of home invasions in the East Fryeburg area.
Detective Sgt. Josh Potvin says Dylan Thorner (shown at left, photo courtesy Fryeburg P.D.) was taken into custody without incident about 2 p.m. Tuesday at his home at 1302 Bridgton Rd.
Thorner was taken to the Oxford County Jail where he was being held on $7,000 cash bail.
Thorner is charged with 8 felonies. The charges include arson, theft of a motor vehicle, criminal mischief – and multiple counts of burglary and theft.
Potvin says he's pleased with the successful outcome of the extensive investigation into the crimes, saying "many of our citizens have been on edge since these crimes were committed. Tonight they can rest easy."
Potvin says DNA evidence collected during the investigation was linked to Thorner, who allegedly took full responsibility for his actions during an interview with police.
In the fall of 2013 police asked residents in East Fryeburg to be vigilant and report anything suspicious after a number of burglaries in the area, at least three of them characterized as home invasions, that appeared to be connected. They also stepped up foot and cruiser patrols in the area.
One of the break-ins was reported to be at Harvest Hills Animal Shelter on Route 302, one in Belair Estates and another on Baker Circle. No people or animals were hurt.