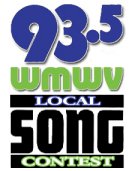 HOW THE CONTEST WORKS:
Starting July 1, 2012 we asked LOCAL MUSICIANS to send us ONE original song to be considered for the Song Competition.  We took submissions until August 31st. After submissions closed, a panel of Judges determined by WMWV picked the top 5 songs, and they will be posted here for  the month of September. The song that receives the most votes over the course of the month will be the winner.
We had SO many submissions the 4 judges could only narrow it down to FIVE FINALISTS… the one with the most votes by Midnight on September 30th will be the winner .
SO, first listen to the five finalists:
Abby Miller – Don't Worry Daddy
Audio clip: Adobe Flash Player (version 9 or above) is required to play this audio clip. Download the latest version here. You also need to have JavaScript enabled in your browser.
Brian Hastings – Turn the TV Off
Audio clip: Adobe Flash Player (version 9 or above) is required to play this audio clip. Download the latest version here. You also need to have JavaScript enabled in your browser.
Junco – Baga Dada
Audio clip: Adobe Flash Player (version 9 or above) is required to play this audio clip. Download the latest version here. You also need to have JavaScript enabled in your browser.
Foster & Ulitz – Drive Fast
Audio clip: Adobe Flash Player (version 9 or above) is required to play this audio clip. Download the latest version here. You also need to have JavaScript enabled in your browser.
Doug Hazard – The Tunnel at the End of the Light
Audio clip: Adobe Flash Player (version 9 or above) is required to play this audio clip. Download the latest version here. You also need to have JavaScript enabled in your browser.
Voting has ended! Stay tuned to WMWV to hear the winner!
The Winner will receive:
1. A recording session with RESORT RECORDINGS to record one song demo or EP!
2. They will come to the 93.5 WMWV FM Studio and play their song LIVE ON THE AIR!
3. Their song will be added to the 93.5 WMWV FM on-air rotation for the rest of 2012 and recognized as the WMWV LOCAL SONG OF THE YEAR!
4. A check for $100 and $100 in Valley original Gift Certificates!
Thanks to everyone who entered… we had so many great songs and at WMWV we believe in supporting local music and hopefully even if you didn't win you may have heard your song on WMWV over the past few weeks. If you didn't become a finalist this year… we will be making this an annual contest… so get ready for next year!