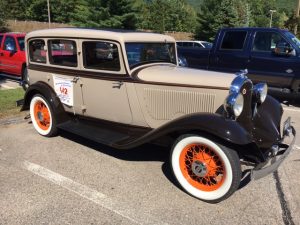 North Conway, NH – If you've been driving route 16 or 302 these last few days, you probably think you've stepped into a time machine. That's because the 71st Revival AAA Glidden Tour has made a week-long pitstop in the Mount Washington Valley!
This September, the VMCCA welcomes those who share the experience and history of the oldest, largest and most prestigious antique car event in the country, the 71st Glidden AAA Revival Tour, in North Conway. Hundreds of owners have arrived from all over the country for a full week of fun that requires driving their rare, pre-1943 cars over hundreds of miles of road. It is appropriate that the Glidden Tour should return to New Hampshire in 2016!
This is the first time since 1998 that the tour has been to New England. The first AAA Reliability Tour took place here in 1904. The following year, under the direction of telecommunication millionaire, Charles Glidden, the tour returned to New Hampshire with a purpose: to test the reliability and endurance of the American auto manufacturers and encourage them to compete with the growing popularity of European-made models.
After the 1913 tour, it was felt their purposes had been fulfilled, and the activity ended. American-made cars had proven their reliability and ended European prestige by winning every tour. Good roads were now being built. Fair motoring laws were being enacted. And best of all, there was now one car for every 35 persons in the country as compared to one car for every 1,000 persons when the tours began.
In 1946, The Veteran Motor Car Club of America, under the Presidency of opera and TV star, James Melton, decided to relaunch the tour as the Glidden AAA Revival Tour to recreate the purposes and tradition of the early AAA events. In 1947, the tour came back to. . . where else, but New Hampshire. It has been held every year since with the ongoing support of AAA and later with the Antique Automobile Club of America (AACA) as a partner.
The 2016 tour will be a hub tour hosted at the North Conway Grand Hotel. All this week, these early cars have enjoyed predetermined, often hilly, routes as the pioneers before them did, but have stopped often for coffee breaks, lunches, attractions, and of course, shopping. They have shared their love and their knowledge with audiences from children to seniors at rural places: Center Harbor, Wolfeboro, Bretton Woods, the Kangamangus Highway, Lincoln, Mt. Washington Auto Route and more. In addition, they have will visited western Maine; Bridgton, Paris Hill, Newfield, and Parsonsfield.