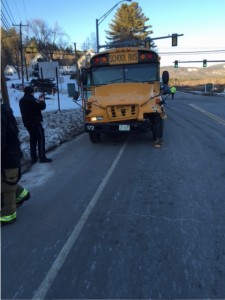 Campton, NH – A School bus collided with a pickup truck in Campton yesterday (January 5th). According to Campton Police Chief Christopher Warn at around 3:00 pm a 17-year-old man driving a Dodge 1500 traveling east on Route 49 turned left at the intersection of 49 and 175 crossing into the path of the bus that was traveling west on Route 49. Luckily the school bus had no students on board at the time.
Both vehicles sustained heavy front-end damage and the pickup truck had to be towed from the scène. The driver of the truck suffered minor facial injuries and the bus driver, 37-year-old Terri Dinger of Thronton, sustained an unknown injury to her hand. Both refused medical assistance at the scene.
The investigation into the accident is still ongoing, but neither alcohol, drugs, nor speed are believed to have contributed to the collision.