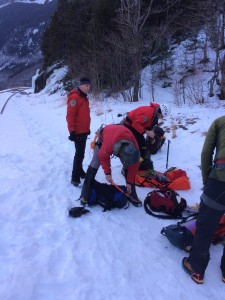 Hart's Location, NH – Two Ice Climbers where injured do to falls this weekend just a day apart. According to New Hampshire Fish and Game 24-year-old Kevin Garcia of Providence Rhode Island was out climbing Frankenstein Cliffs Saturday when he fell approximately 30 feet, luckily his rope halted his fall.
He was initially unconscious but regained consciousness after about one minute and his partners were able to lower him safely to the ground. He was then taken by litter to the Arethusa Falls parking lot and then transported to Memorial Hospital for treatment.
The very next day and less than 5 miles away 36-year-old Peter Lindahl of Medford, MA was ice climbing up Mt. Willard, when at around 1pm Lindahl fell while climbing the Upper Hitchcock Gully. Authorities say he fell approximately 20 feet hitting a ledge.
Several climbers assisted him initially but he was eventually placed in a litter by rescuers and lowered 600 feet to the ground. He was then transported by litter one mile to the Willard parking lot arriving at around 6:45pm. Lindahl was then transported to Memorial Hospital for evaluation and treatment.
Both men have since been released from the Hospital.