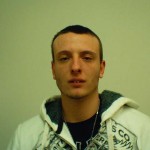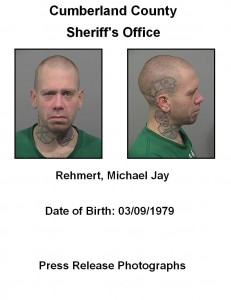 CONWAY POLICE SAY A COOPERATIVE INVESTIGATION BY HALF A DOZEN LAW ENFORCEMENT AGENCIES IN NEW HAMPSHIRE AND MAINE HAS RESULTED IN THE ARRESTS OF TWO MEN IN CONNECTION WITH LAST WEEK'S ARMED ROBBERY AT A BANK IN NORTH CONWAY.            Riff, Joshua A.  
                                                                          (Conway P.D.)
 LT. CHRIS PERLEY SAYS 32-YEAR-OLD MICHAEL J. REHMERT JR. OF 21 OXFORD STREET IN FRYEBURG, MAINE  WAS ARRESTED BY CUMBERLAND COUNTY SHERIFF'S DEPUTIES AND TACTICAL OFFICERS TUESDAY AFTERNOON AFTER A BRIEF STRUGGLE AT A TATTOO PARLOR HE WORKED AT IN STANDISH, MAINE.
REHMERT IS CHARGED WITH ARMED ROBBERY AND KIDNAPPING IN CONNECTION WITH THE HOLD UP OF A PERSON MAKING A NIGHT DEPOSIT WEDNESDAY SHORTLY BEFORE 9:30 P.M. AT THE T.D. BANK BRANCH ON EASTMAN ROAD.
SURVEILLANCE PHOTOS OF THE ROBBERY SHOW A DISGUISED PERSON ON THE HOOD OF A CAR AND THEN AT THE DRIVER'S SIDE WITH WHAT APPEARS TO BE A GUN.
PERLEY SAYS THE SUSPECT TOOK THE DRIVER'S KEYS AND CELL PHONE ALONG WITH AN UNDISCLOSED AMOUNT OF CASH BEFORE RUNNING TO A NEARBY CAR AND ESCAPING. THE VICTIM WAS NOT HURT.
PERLEY SAYS A COURT AUTHORIZED SEARCH CONDUCTED WITH FRYEBURG POLICE AT REHMERT'S APARTMENT TURNED UP EVIDENCE REHMERT COULD BE FOUND AT INFINITY TATTOO IN STANDISH.
REHMERT'S VEHICLE HAS ALSO BEEN SEIZED AS EVIDENCE.
REHMERT IS BEING HELD AT THE CUMBERLAND COUNTY (MAINE) JAIL PENDING HIS EXTRADITION TO NEW HAMPSHIRE.
A SECOND SUSPECT, IDENTIFIED AS 21-YEAR-OLD JOSHUA A. RIFF OF CRESCENT DRIVE IN CONWAY, WAS ARRESTED MONDAY AND IS CHARGED WITH CONSPIRACY TO COMMIT ARMED ROBBERY AND ACCOMPLICE TO ROBBERY.
RIFF WAS ARRAIGNED TUESDAY AND IS BEING HELD ON $50,000 CASH BAIL. HE'S DUE TO APPEAR IN COURT AGAIN NOVEMBER 22ND .
PERLEY SAYS THE INVESTIGATION INTO THE CASE CONTINUES. POLICE HAVE NOT CONFIRMED IF THERE IS ANY CONNECTION BETWEEN THE CONWAY ROBBERY SUSPECTS AND AN ARMED ROBBERY OF A CONVENIENCE STORE IN MADISON, NEW HAMPSHIRE WEDNESDAY NIGHT.
PERLEY SAYS HE'S GRATEFUL TO POLICE DEPARTMENTS IN BARTLETT AND MADISON, THE CARROLL COUNTY SHERIFF'S OFFICE, NEW HAMPSHIRE STATE POLICE – AND IN MAINE, FRYEBURG POLICE AND THE CUMBERLAND COUNTY SHERIFF'S OFFICE – FOR THEIR ASSISTANCE IN THE INVESTIGATION.