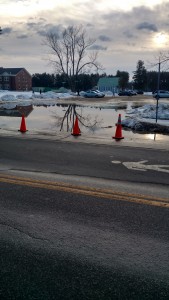 Fryeburg, ME – Fryeburg Academy was closed today after a water main broke this morning. The 10″ water main located in front of the academy was reported broken at around 4 am. Fryeburg Police and Fire departments closed off a portion of Main Street, Route 302, shifting traffic temporarily.
According to the Fryeburg water company water from the Academy up route 5 towards Fryeburg Fairgrounds was shut off as crews rushed to repair the lines. Classes were canceled for the day but are going to resume tomorrow.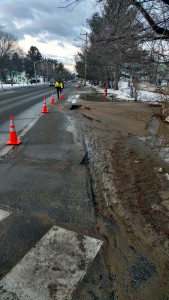 Fryeburg Police Chief Joshua Potvin said "Repair crews were quick to respond to the scene to turn off the 10" water main and begin repairing the damage. Our main concern was the integrity of the roadway and safe travels for the passing motorists."
As of news time Fryeburg Police reported that many residents were still without water.