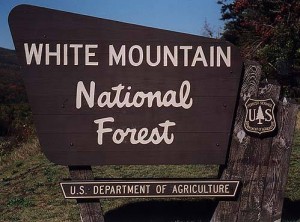 Campton, NH – The deadline to apply for the White Mountain National Forest Artist-in-Residence program has been extended to next week. The Program is an opportunity for professional and emerging artists from around the country to practice their particular form of art while utilizing the beauty of the White Mountains as their inspiration.
Selected artist will spend an extended time in the forest and will get to share their works during a weekly public session. Public sessions can include demonstrations, exploratory hikes, or talks, based on the medium and experience of the artist. One artist residency of at least three weeks will be offered between mid-July and September. The artist will be provided accommodations on or near the forest as well as limited reimbursement of travel expenses and the cost of supplies and materials. The goal of the residency program, which is a partnership between the WMNF and the Arts Alliance of Northern New Hampshire, is to use art to demonstrate the many ways in which people relate to the forests around us that we often take for granted.
The program was created in 2011, to honor the 100th anniversary of the passage of the Weeks Act, which gave the federal government the ability to purchase land in the eastern U.S., which lead to the creation of the White Mountain National Forest as well as more than 50 other national forests.
Interested artists in all media can apply and can an application as well as information on the program at www.aannh.org, or contact the Arts Alliance at [email protected], 603-323-7302.