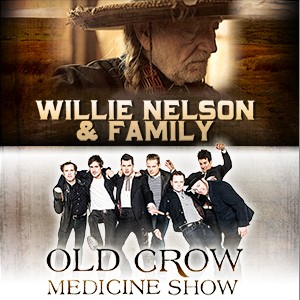 This Sunday it's Willie Nelson and Family and Old Crow Medicine Show, live at Bank of New Hampshire Pavilion in beautiful Gilford, New Hampshire!!   
Need tickets? Tune in this week for your cue to call this week at (603)356-9930!
Willie Nelson – With a six-decade career and 200 plus albums, this iconic Texan is the creative genius behind the historic recordings of Crazy, Red Headed Stranger and Stardust. Willie Nelson has earned every conceivable award as a musician and amassed reputable credentials as an author, actor and activist. Released May of 2012 is Heroes, his first album for Legacy Recordings, showcased new songs and deep country classics. The album spent five weeks at #1 on the Americana Radio Chart. Later that year he launched his book, Roll Me Up And Smoke Me When I Die, which landed in the Top 10 on The New York Times's best-seller list. A road journal written in his inimitable, homespun voice, the book is a deeply personal look into the heart and soul of a unique man and one of the greatest artists of our time. In 2013, Willie's albums included April's Let's Face The Music And Dance, an album of deep pop country repertoire classics performed with transformative patented ease by Nelson and Family, his long-time touring and recording ensemble; and October's To All The Girls… which features 18 duets with music's top female singers including Dolly Parton, Mavis Staples, Sheryl Crow, Loretta Lynn, Wynonna Judd, Rosanne Cash, Alison Krauss, Miranda Lambert, Carrie Underwood, Emmylou Harris, Norah Jones, and Shelby Lynne.
Old Crow Medicine Show – After an energetic performance at the 2015 Grammy Awards Premiere Ceremony, Old Crow Medicine Show continued the celebration with a win for Best Folk Album, for 'Remedy.' While winning the award was an outstanding accomplishment for the band it would not be the only one in their 18 year history. On September 17th, 2013 Old Crow Medicine Show received the great honor of being inducted as the newest members of the historic Grand Ole Opry. Other highlights from the year included winning the Grammy Award for "Best Long Form Music Video" for the film Big Easy Express, and having their classic single, "Wagon Wheel", receive the RIAA's Platinum certification for selling over 1,000,000 copies.
Old Crow Medicine Show now have five studio albums to their name, three of which were released by Nettwerk Records – O.C.M.S and Big Iron World produced by David Rawlings, and Tennessee Pusher produced by Don Was. In 2012 Old Crow released Carry Me Back, on which they continued to craft classic American roots music while pushing themselves in new directions. The band's newest album, Remedy, released by ATO Records and produced by Ted Hutt represents a new stretch of road in the timeless journey of a rambling string band.
For more info on this show, or any others visit banknhpavilion.com