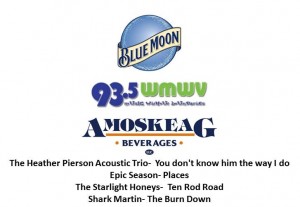 If you're following the Local Song of the Year Contest and looking forward to seeing these incredibly talented groups live, you're in luck- our showcase schedule is set.
It's time to dust off your best duds, and come on out to celebrate our local talent all month long at some of our favorite spots in the valley.
Don't forget to come back to vote for your favorite.
Song of the Year Contest Showcase Schedule:
Saturday, March 12th –  8pm
Epic Season @ Horsefeathers
Tuesday, March 15th –  7pm
Shark Martin @ McGrath's Tavern
Thursday, March 24th – 8pm
Starlight Honeys @ Red Parka Pub
Wednesday, 30th – 6pm
Heather Pierson Trio @ Flatbread Co.
Thanks to our sponsors Amoskeag Beverages and Blue Moon Brewing Company for making this contest possible.