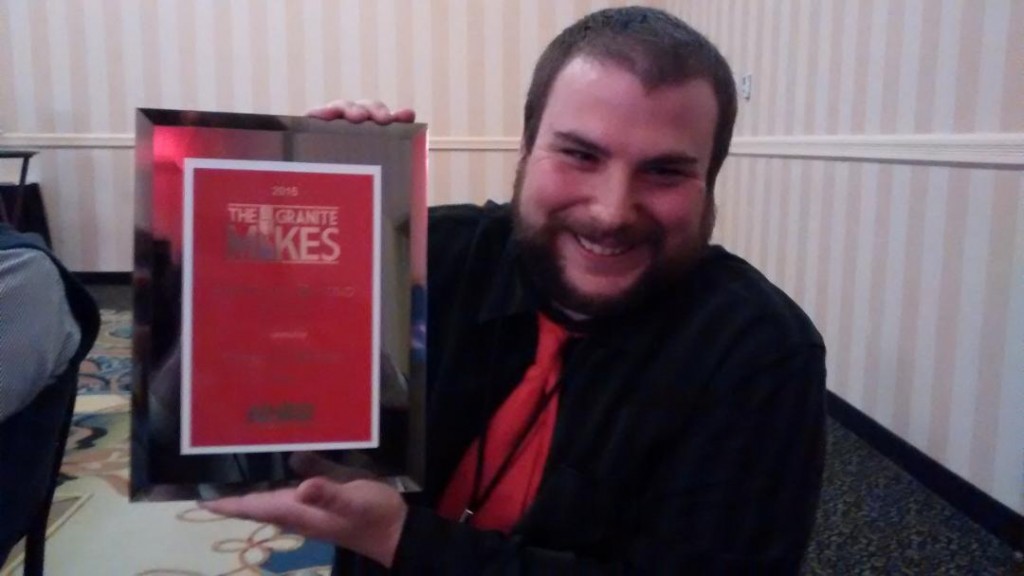 Our very own News Director, Christian Mower took home two awards at the Annual New Hampshire Association Of Broadcasters Granite Mikes. He was awarded with the Merit Award for his feature piece on his trip up to The Mount Washington Observatory last winter. You can listen to his award winning piece below.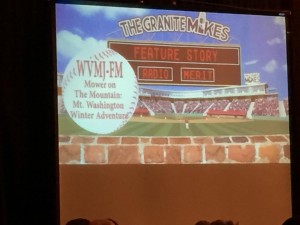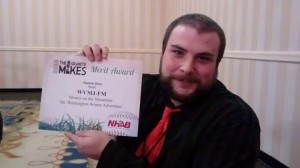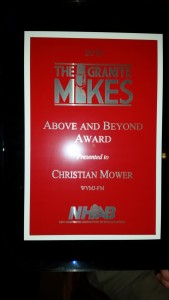 Unbeknownst to him his family at the Mount Washington Radio Group also entered him for another award. The Above and Beyond Award that goes to an individual who goes above and beyond the call of duty at his job.  Here is the essay submitted to honor Christian.
"I would like to nominate our News Director, Christian Mower for the
"Above and Beyond" Award. In addition to his news reporting duties, Christian is also our utility guy and our stations would be in rough shape without him.
Whether it's an air shift that needs to be covered, board operating, production or just lending a helping hand Christian is our guy. There is no job too small for Christian and the best part about it, is that he does it with a smile. For the amount of work Christian does he is always happy, positive, and ready to go.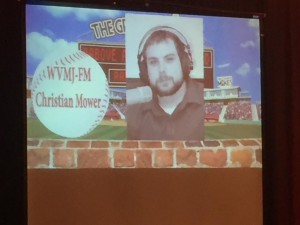 Despite this last year that Christian has gone through with the loss of his mother, he is still one to put others in front of himself. He's the type of guy who checks with everyone else to make sure they are all set before asking for a day off. He's the one that before he leaves for the day goes around the office and makes sure there isn't anyone who needs help finishing a task. He truly is our "jack of all trades."
He's everything we ever wanted out of a News Director too. When Christian goes home for the day he's not really done, the news is always happening and Christian is always on top of it. He's always rushing back to the studio to update his news whenever a breaking story comes through and always looking for that little piece of information that not everyone would report.
Not too long ago, when we had a member leave our staff, not only did Christian fill in, he did that job and his own. During that time a twelve to fifteen hour shift was daily business to Christian and never once did he complain. Christian has got that "go get'em" attitude that every Program Director looks for in an employee.
He's also the first one to volunteer when it comes to setting up a LIVE remote or helping out with promotions. He's the first one to offer a ride to someone and make sure everyone gets home safely. In fact he gave rides to and from work to one of our employees for about six months straight. No matter how early the morning, bitter the cold, or how much sleep he sometimes is deprived, Christian is our superstar and always ends up being our most reliable employee. If we need something done, Christian is the guy to give it to.
When I hear the phrase "Above and Beyond", Christian is definitely my first thought and that is why he deserves this award. If you asked him yourself what he thought of the work he did, he'd simply say it was all just part of his job. In fact, he'd think we were silly for nominating him for such an award because he truly believes he doesn't do anything "extra". But I can ensure you he does. Christian is the "extra" when it comes to our radio group.
So, ultimately on the behalf of myself and the rest of the staff at Mt. Washington Radio, we nominate Christian Mower for the "Above and Beyond" Award and whether he is recognized or not for his achievements, he will always be "Award Winning" to us. Thank you!"