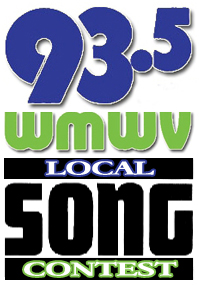 Starting January 15, 2015 we are asking LOCAL MUSICIANS to send us ONE original song to be considered for the WMWV SONG OF THE YEAR Competition presented by Blue Moon Brewing Company. We will take submissions until February 15, 2015. After that, a panel of Judges determined by WMWV will pick the top 4 songs, and they will be posted here for the month of March. The song that receives the most votes over the course of the month will be the winner. This year we will be asking the 4 finalists to do a 1 Hour showcase at a local venue to showcase their talents and try to get more votes. Dates and venue to be determined.
The winner will receive:
1. A LIVE lunchtime performance of their song on 93.5 WMWV FM!
3. Their song will be added to the 93.5 WMWV FM on-air rotation for the rest of 2015 and recognized as the WMWV LOCAL SONG OF THE YEAR!
4. A check for $1000 and other PRIZES!
E-Mail Submissions to: [email protected]
Mail or Drop off a CD:
Mt Washington Radio Group
2 Common Court, Unit A30
North Conway, NH 03860
Rules*
Song must be an original
You or a member of the group must live in either Carroll County, Coos County, or Oxford County (that is Local).
WMWV has the right to change the rules or contest at anytime as is needed.
By sending your song you are giving us permission to play it on the air.
We are asking that songs be no longer than 5 Minutes long if possible (over 5 minutes will not exclude you from the contest)