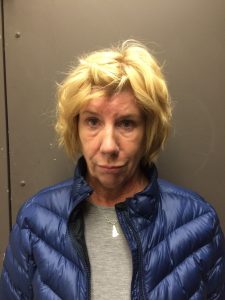 Wolfeboro, NH – A Wolfeboro woman was arrested for allegedly driving drunk with a child in the car. According to Wolfeboro Police on December 28th an Officer was approached at the Wright Museum by a motorist complaining of a vehicle that had almost hit them at the intersection of Elm St and Center St.
The Officer located a vehicle that matched the description of the suspect vehicle a few moments later pulling off of the sidewalk onto South Main Street at Pickering Corner. The officer pulled the vehicle over and arrested 63-year-old Catharine Newcomb for Aggravated DWI after she was found to have a 7-year-old child in the vehicle.
Newcomb was also charged with Conduct After an Accident, because police later discovered that she had allegedly actually struck a telephone pole at Pickering Corner and left the scene just prior being spotted driving on the sidewalk.
Newcomb is being held on 1 thousand dollars personal Recognizance bail and is to appear at the Carroll County 3rd Circuit Court on January 4th.
It is not known if she was related to the child.