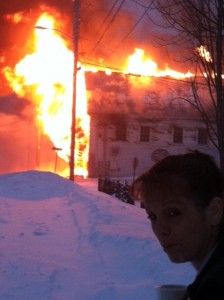 PHOTO COURTESY LOVELL F.D.
THE FIRE CHIEF IN LOVELL, MAINE SAYS AN HISTORIC LANDMARK BUILDING IN THE TOWN WAS TOTALLY DESTROYED BY AN EARLY MORNING FIRE SATURDAY.
TOMMIE McKENZIE – A FORMER POLICE SERGEANT FOR THE CONWAY POLICE DEPARTMENT – SAYS THE PROPERTY AT 224 MAIN ST. WAS LISTED IN THE NATIONAL REGISTRY OF HISTORIC BUILDINGS AND DATED BACK TO THE 1830s.
ITS RECENT USE WAS FOR OFFICE SPACE – INCLUDING A REAL ESTATE COMPANY, LAW OFFICE, GALLERY SPACE AND A QUILT SHOP – AND CONDOMINIUMS. McKENZIE SAYS THE FIRE WAS FIRST DISCOVERED BY A NEIGHBOR WHO WAS PLOWING DURING THE SNOWSTORM AND CALLED 911 ABOUT 6:45 A.M. SATURDAY.
ON ARRIVAL FIREFIGHTERS FOUND ONE CONDO TO BE FULLY INVOLVED, WITH THE FIRE SPREADING HORIZONTALLY.
BLOWING FLAMES FROM THE FRONT OF THE BUILDING NEARLY REACHED THE MIDDLE OF NEARBY ROUTE 5 AND IT WAS CLOSED TO TRAFFIC FOR NEARLY SEVEN HOURS.
THE FIRE BURNED UTILITY LINES AND THAT DISRUPTED POWER, PHONE AND CABLE SERVICE TO THE TOWN FOR ALMOST 12 HOURS.
60 FIREFIGHTERS RESPONDED TO THE SCENE, INCLUDING CREWS FROM STONEHAM, FRYEBURG, SACO VALLEY, EAST CONWAY AND CENTER CONWAY – AS WELL AS STONEHAM RESCUE AND FRYEBURG RESCUE.
THE FIRE WAS BROUGHT UNDER CONTROL AROUND 11 A.M. SATURDAY. CREWS REMAINED ON SCENE TO OVERHAUL THE DEBRIS UNTIL MID-AFTERNOON.
THE STATE FIRE MARSHAL'S OFFICE HAS JOINED THE INVESTIGATION INTO THE CAUSE OF THE FIRE – IT'S SUSPECTED TO BE LP GAS HEAT IN A UNIT THAT WAS BEING REMODELED.
McKENZIE SAYS HE'S GRATEFUL TO RESIDENTS AND TOWN BUSINESSES THAT SUPPLIED WATER, COFFEE AND FOOD TO FIREFIGHTERS.