White Mountain National Forest Oversight has Changing of the Guard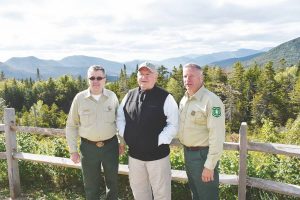 LINCOLN – After proudly showing off the place to his bosses, including Secretary of Agriculture Sonny Perdue and new U.S. Forest Service Chief Tony Tooke, Tom Wagner retired on Sept. 1 after 15 years as supervisor of the White Mountain National Forest.
Located mostly in New Hampshire but also stretching into Maine, the WMNF, said Tooke, "has a great reputation in the country."
Tooke was supposed to be sworn in Friday by Perdue during a ceremony at the Pemigewasset Overlook in Lincoln, off the Kancamagus Highway, but high winds forced the event to be moved farther east on the Kanc to the Russell Colbath House.
At the historic site, Perdue welcomed Tooke, who succeeds Tom Tidwell of Boise, Idaho, who, like Wagner, is stepping down after a more than 40-year career with the Forest Service.
A native of Alabama, Tooke has worked for the Forest Service since age 18.
Most recently Tooke was associate deputy chief for the National Forest System with oversight of lands and realty; minerals and geology; ecosystem management coordination; wilderness and wild and scenic rivers; the National Partnership Office; and business administration and support services.
He is well-traveled, having been deputy forest supervisor for the National Forests in Florida as well as a district ranger at the Talladega National Forest in Alabama, the Oconee National Forest in Georgia and the DeSoto National Forest in Mississippi.
Until last Friday, Tooke had never been to the WMNF but said he immediately liked what he saw here.
While he did not have specific goals for the WMNF, which has a management plan, Tooke said his term as Forest Service head would be marked by greater responsiveness to national forest neighbor communities, adding that Town Hall-style meetings have proven to work well in other venues where he has served.
Tooke acknowledged that national forests face a number of challenges, invasive insects and fires among them; 2017 is "another tough year" in terms of forest fires, he said, and those fires, mostly out west, are putting a dent in the Forest Service's overall budget.
In his new position, Tooke said he'd work to expand the relationships among the Forest Service, partners and volunteers.
Wagner closed the swearing-in ceremony by thanking the many partners and "the employees of the White Mountain National Forest" for making his tenure there is a success.
https://www.wmwv.com/wp-content/uploads/2022/03/logo-1.jpg
0
0
Lucia
https://www.wmwv.com/wp-content/uploads/2022/03/logo-1.jpg
Lucia
2017-09-05 14:43:38
2017-09-05 14:52:18
White Mountain National Forest Oversight has Changing of the Guard