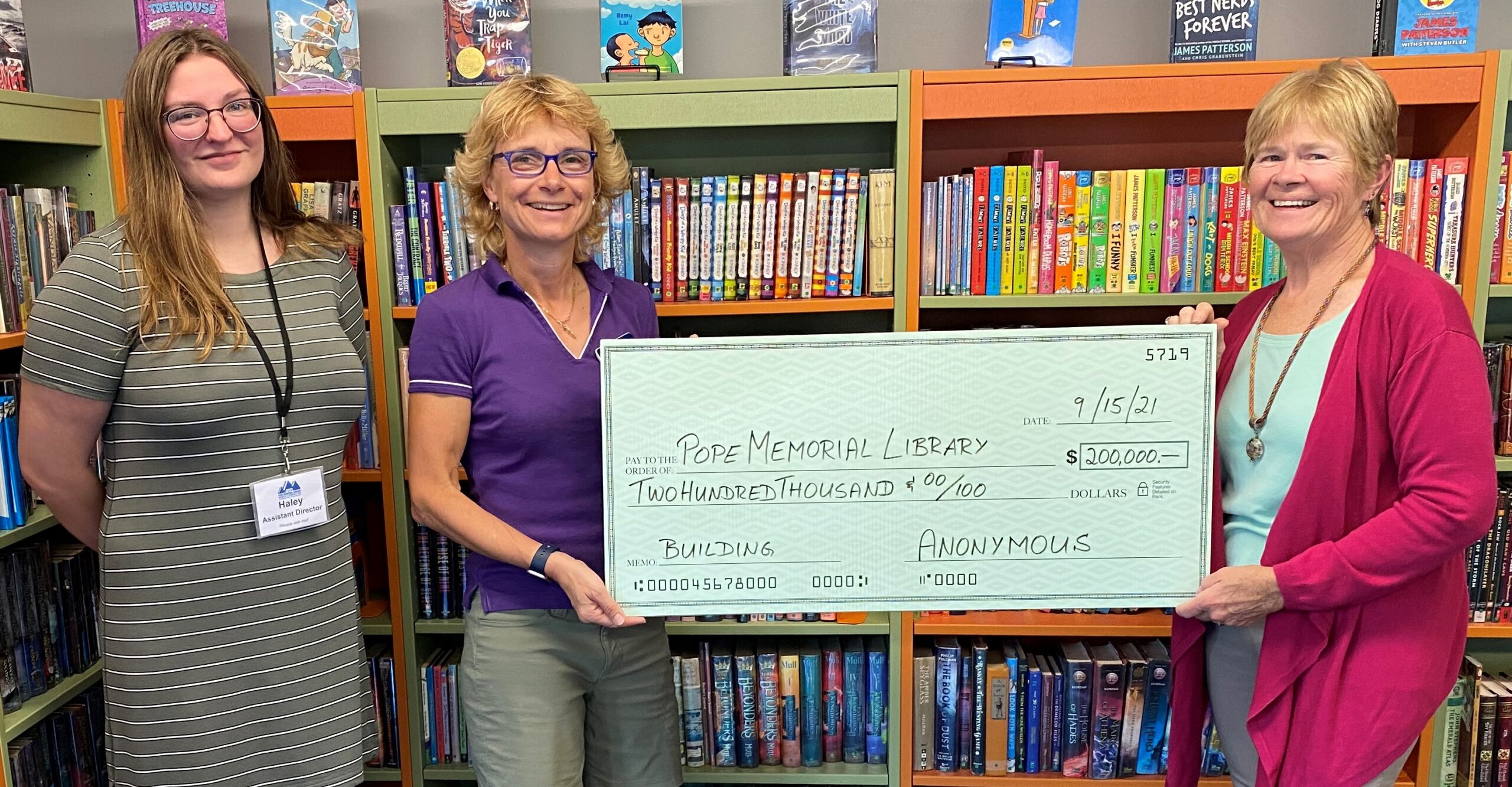 Pictured left to right: Assistant Director Haley Torrey, Library Director Andrea Masters, Capital Campaign Chair Sharon Wroblewski. (Courtesy Photo)
$200,000 Gift for the Pope Memorial Library!
Even far away in the Pacific Northwest people talk about North Conway's Pope Memorial Library! When a philanthropist there heard about the Pope Library's Capital Campaign and that the library has only $280,000 left to raise out of a 3.9 million expansion and renovation project, she was all ears. The philanthropist loves libraries and enjoys doing good things, so she had her financial adviser contact library director Andrea Masters to inquire about the project. Several phone calls and emails later, the library received a check for $200,000!
"This was an unbelievable stroke of luck," said Masters. "This wonderful donor, who wishes to remain anonymous, was very impressed with the project and hopes that her donation can push us over the finish line of the capital campaign."
Sharon Wroblewski, Chair of the Capital Campaign, added, "We were most fortunate and thankful to have Lyman Pope as our major benefactor who gave a gift of $3 million. The Capital Campaign committee needed to raise about $1 million, no small task during these unprecedented times. We are so appreciative to our patrons who donated, outside donors, both individuals and businesses, as well as local foundations, that they have gotten us to this point. And with this incredibly generous donation, we are down to $80,000 to raise. Yahoo!"
Wroblewski hopes that "announcing this gift will give the campaign a second wind and help to incentivize our community members to make a donation so we will reach our goal. And then we will have our grand opening reception/party/fete!"
Donations of any amount are appreciated and can be mailed to PO Box 409, North Conway, NH 03860 or given online at popelibraryNH.org.
For information, you can contact Sharon Wroblewski, Chair of the Capital Campaign, at 603-387-7224 or [email protected]. Better yet, stop by the library and see for yourself!
https://www.wmwv.com/wp-content/uploads/2022/03/logo-1.jpg
0
0
Roy
https://www.wmwv.com/wp-content/uploads/2022/03/logo-1.jpg
Roy
2021-09-20 05:06:09
2022-03-22 09:30:59