Gene Chandler Elected Speaker Of NH House Again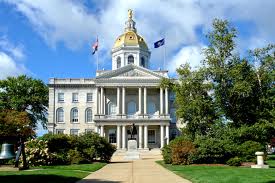 Concord, NH – Bartlett representative Gene Chandler has been elected as the New Speaker of the House.
Chandler won on the second round of votes due to being 2 votes short of the 184 vote threshold in the first vote. House Clerk Paul Smith said 22 Republican protest votes went to "scatter" with over a dozen for deceased Rep. Steve Vaillancourt, while the others were left blank. During the second round of voting Chandler received 192 of 360 ballots cast, 11 more than he needed to win, while Democratic nominee Steve Shurtleff received 152 votes, Libertarian Nominee Jim McConnell got 11, and only five were in the "scatter" category.
Chandler will serve the remaining year of former speaker Shawn Jasper's term. Chandler promised not to seek a full, two-year term when the House next chooses its leader, in December 2018.
Chandler previously served as speaker for two terms, from 2001-2004, but did not seek a third consecutive term after becoming embroiled in a fundraising scandal.
https://www.wmwv.com/wp-content/uploads/2022/03/logo-1.jpg
0
0
Tony
https://www.wmwv.com/wp-content/uploads/2022/03/logo-1.jpg
Tony
2017-12-01 12:31:21
2017-12-01 12:31:21
Gene Chandler Elected Speaker Of NH House Again