LODGING UPDATE- NEW HAMPSHIRE AND THE MOUNT WASHINGTON VALLEY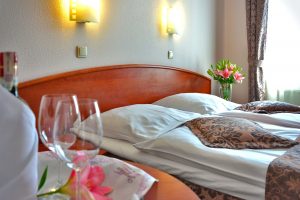 Memorial Day weekend is the traditional kick off to the Mount Washington Valley's next tourist season but with stay at home orders Governor Sununu's emergency order restricting hotels and lodging providers to only offer housing to essential workers and vulnerable populations, it won't be a blockbuster.
So where are we at now as a state and as a tourist destination?   Janice Crawford, Executive Director for the Mount Washington Valley Chamber of Commerce tells us: "We're trying very hard to make sure we have a safe destination, we want to make sure people can trust us when they make reservations that we've been following all the guidelines required by the state and federal level and so I just want to share with our lodging properties and our Airbnb owners that we are very much opposed to allowing anyone to come into the state to stay.  Even from the state of New Hampshire because at this point in time, the state has not opened up lodging."  There are currently no guidance documents from the state of New Hampshire to follow at this time to ensure the safety of lodging staff or guests.
The NH.gov website states that for safety purposes people should remain in their home state until additional restrictions are lifted.  It also states that individuals who travel to and stay in New Hampshire for an extended period of time to self-quarantine for a 2 week period.
Governor Sununu spoke with WMUR and explains; "Hotels, especially in New Hampshire, because of tourism,  are designed on the idea that we are going to attract people from Massachusetts, New York, New Jersey and Connecticut .  Normally we would like to have those folks right here, but to open right now and attract that tourism business in we need to see the other state's numbers go down.  Here we are looking at different guidance and how it might be done here and put a lot of guidelines and restrictions but, we are definitely not there yet and unfortunately, I cannot say when it's going to be but probably not in the near future."
Keep up to date with the Mount Washington Valley Chamber of Commerce website.
https://www.wmwv.com/wp-content/uploads/2022/03/logo-1.jpg
0
0
Shannon
https://www.wmwv.com/wp-content/uploads/2022/03/logo-1.jpg
Shannon
2020-05-21 15:15:34
2020-05-21 15:15:34
LODGING UPDATE- NEW HAMPSHIRE AND THE MOUNT WASHINGTON VALLEY