Mud Crocs Defeat Muddas in Overtime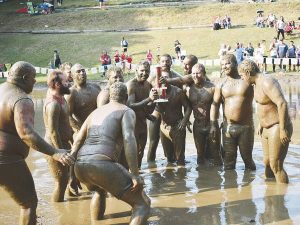 NORTH CONWAY — This tourist mecca is known for many things and on Sunday it earned another moniker as the hometown of the best mud-football team anywhere.
In a battle between the 19-time champion Muddas Football Club of Amherst and the up and coming North Country Mud Crocs, the latter prevailed 14-12 in overtime to win the dramatically named World Championship of Mud Football on Steve Eastman Memorial Field at Hog Coliseum.
Now a major fundraiser for several Conway-area charities, the first mud bowl was held in 1972 at the University of Maine before moving west to its current location in North Conway four years later.
Apart from the knee-deep mud, the game is essentially seven-on-seven touch/flag football.
Jason Veno, who is both the Crocs' quarterback and its coach and who on Sunday tossed a touchdown in overtime to James Duke IV and the two-point conversion to Brandon Hamilton, said the key to winning the Mud Bowl "is just focusing."
"It's hard to throw and catch a muddy football," said Veno, who played football at and graduated from nearby Kennett High School.
A representative of Amoskeag Beverages, which was a Mud Bowl sponsor, Veno said the Crocs now have two Mud Bowl titles; the first was in 2013.
Coming into Sunday's tilt, the Muddas, given their long and successful history, were favorites but in the end they turned out to be the runner-up for the second consecutive year.
In 2016, the Muddas fell to the Nashua Mud Gumbys 20-14 in the last second of regulation time.
After the Crocs scored Sunday, the Muddas got the ball back and had four downs to match the score, but their drive ended with an interception, which was in short order followed by an emotional eruption of the Crocs players and their supporters.
The 2017 Mud Bowl featured 12 teams, including from both near — the 11-time champion Mount Washington Valley Hogs — and from Maine, Massachusetts and Rhode Island.
https://www.wmwv.com/wp-content/uploads/2022/03/logo-1.jpg
0
0
Lucia
https://www.wmwv.com/wp-content/uploads/2022/03/logo-1.jpg
Lucia
2017-09-11 15:01:08
2017-09-12 11:46:06
Mud Crocs Defeat Muddas in Overtime