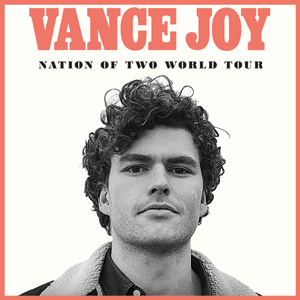 Saturday, June 19, 2018 – 7:30pm @ Bank of New Hampshire Pavilion
Tune in all this week for your chance to win tickets to the Nation of Two World Tour, featuring Vance Joy and Mondo Cozmo, courtesy of our good friends at Bank of New Hampshire Pavilion at Meadowbrook!
Vance Joy – On the heels of his Rolling Stone Australia cover story, Vance Joy has released his long-awaited second album, Nation of Two. The multi-platinum Australian singer/songwriter has also unveiled the album's cover art (above) and tracklisting (attached), as well as a brand new song and video from the album, "We're Going Home." Nation of Two marks the follow-up to Vance Joy's RIAA platinum certified worldwide breakthrough album, 2014's dream your life away. Featuring 13 new songs, NatiNation of Two features tales of love and longing anchored by Vance Joy's delicate storytelling, masterful instrumentation, and compelling vocals.
Vance Joy's debut album, dream your life away, recently surpassed one million in consumption in the U.S. alone and featured the hit singles "fire and the flood," the platinum certified "Mess Is Mine," and the 4x platinum blockbuster, "Riptide." Based on the success of those songs, Vance Joy was the #1 Most Played artist at Alternative radio in 2015. The singer/songwriter has built a massive global following and has surpassed one billion cumulative streams across platforms.