The annual Mount Washington Radio/Vaughan Community Services Food Drive is coming right up on Wednesday, November 15, and we're hoping to see you there!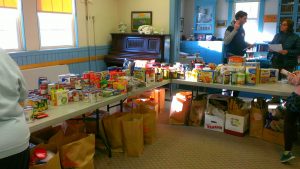 Now in it's 16th year, the Mount Washington Radio/Vaughan Community Services Annual Food Drive  showcases what living in the Mount Washington Valley is all about – community goodwill and service.  Held at the First Church of Christ in North Conway (across from Assets Jean Co.), this one-day, 12-hour event helps collect food for area food pantries benefiting those in need during the holiday season, as well as throughout the year. Many different pantries in the Greater Mount Washington Valley will see donations from the drive helping those less fortunate in their communities.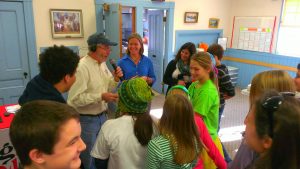 How can you get involved? It's easy! Just swing by the  First Church of Christ (2503 White Mountain Highway) with a non-perishable item anytime from 6am-6pm…you don't even need to get out of your car! Canned foods, spaghetti sauces, pasta, mac n' cheese, peanut butter, muffin and cake mixes, crackers…these are just a few ideas and all will be accepted to go to a good cause. Household items are always welcomed too including toilet paper, paper towels and toothpaste. AND DON'T FORGET ABOUT THE FROZEN TURKEYS!
As always, 93.5 WMWV will be live, on location broadcasting the entire day with a ton of help from our hourly sponsors. A very special "Thank You" to those area businesses (below) for helping us make this event possible again this year!
2017 Food Drive Hourly Sponsors
Hannaford Supermarket of North Conway
Vaughan Community Service, Inc. (VCS) was established in 1965 as a community outreach program for the First Church of Christ, Congregational in North Conway, New Hampshire, however there is no religious affiliation associated with the services provided including this event.
See you there!