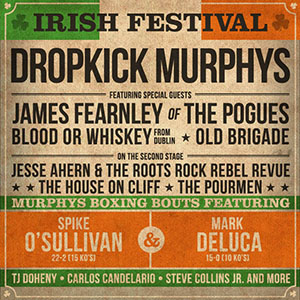 Halfway to St. Patricks Day!
Beginning Monday, September 12 we're giving away tickets to one BIG day of fun; it's the Dropkick Murphys Irish Festival! Saturday, September 17 is half way to St. Patricks day, and Bank of New Hampshire Pavilion at Meadowbrook wants you to come on down and celebrate!
Listen for the cue to call and dial (603)356-9930, and you could be heading to the show!
Dropkick Murphys – An American Celtic punk band, formed in Quincy, Massachusetts in 1996, Dropkick Murphys have made a household name for themselves locally through constant touring and yearly St. Patrick's Day week shows held in and around Boston. Their 2004 smash hit "Tessie" became the band's first mainstream hit and one of their biggest charting singles to date. "I'm Shipping up to Boston", off their 2005 Warrior's Code album was featured in the 2006 Academy Award-winning film The Departed. This single went Platinum and remains one of Dropkick Murphys best known songs to date, becoming the walk-up song of Red Sox closer, Jonathan Papelbon, who danced an Irish jig to the song several times throughout the 2007 Boston Red Sox Championship season.
Dropkick Murphys first started playing in the basement of a friend's barbershop and soon began to tour and record. Their first big break came when the Mighty Mighty Bosstones selected them as an opening act for their 1997 tour.
Halfway: Dropkick Murphys Irish Festival will feature regional acts including The House on Cliff, The Have Nots, Tighticus Finch, Stone Giant, Ricecrackers, Vundabar and Ladypills. Also on site during the festival will be the Murphys Boxing ring. VIP seats to the boxing matches will be available to ticketholders and on sale shortly. Check out our Midway Festival with events in every corner. From Gaelic musical chairs and the Magic Hat Mayhem Course to Harpoon Saloon keg bowling and Samuel Adams National Stein Hoist competition.