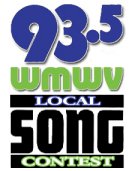 Starting January 15, 2014 we asked LOCAL MUSICIANS to send us ONE original song to be considered for the WMWV SONG OF THE YEAR Competition presented by Blue Moon Brewing Company.  After submissions were closed, we asked listeners to pick the top 4 songs, and here they are!. The song that receives the most votes between now and March 30th will be the winner. This year we will be asking the 4 finalists to do a small showcase at a local venue to showcase their talents and try to get more votes. Dates and venue TBD.
Here they are, listen and vote!

If you can't listen to the songs above, try another browser like Firefox or Chrome or these links:
Epic Season – "Found"
Shark Martin (Featuring Heather Pierson) – "I Had To Leave"
Foster & Ulitz – "Gotta Have Your Love"
The Prism Bombs – "Time Bomb"
You can also hear them on the WMWV Soundcloud Stream
The Winner will receive:
1. A LIVE lunchtime performance of their song on 93.5 WMWV FM!
3. Their song will be added to the 93.5 WMWV FM on-air rotation for the rest of 2014 and recognized as the WMWV LOCAL SONG OF THE YEAR!
4. A check for $1000 and other PRIZES!
Rules*
Song must be an original.
You or a member of the group must live in either Carroll County, Coos County, or Oxford County     (that defines "Local" for purposes of this contest).
*WMWV has the right to change the rules or contest at anytime as is needed.
By sending your song you are giving us permission to play it on the air.