2017 Memorial Hospital Open Golf Tournament Grosses Over $50,000 to Support Let's Go Childhood Wellness Program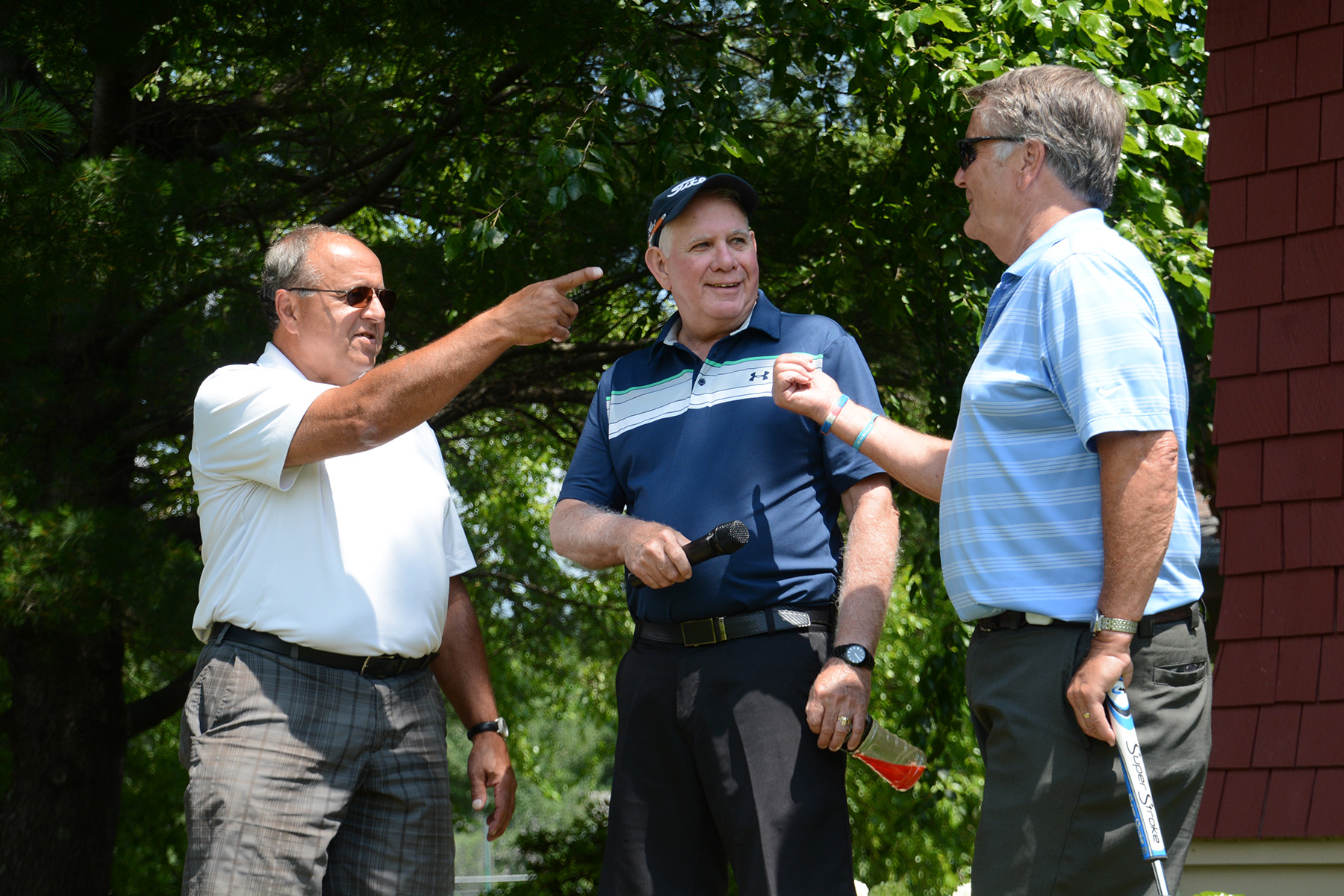 MaineHealth CEO Bill Caron turned out to support our community's Let's Go school program, shown here with tournament director Paul Keane and committee chair Bayard Kennett at the July 20th event.

NORTH CONWAY, NH – Golfers took to the greens at the Wentworth Golf Course in Jackson, NH last week as part of the 37th Annual Memorial Hospital Open Golf Tournament. The event grossed over $50,000 to support "Let's Go," the hospital's initiative to bring health and wellness education and activities to school-aged children throughout Mt. Washington Valley.
The tournament was founded in 1980 by former NH congressman, the honorable Bill Zeliff. In its early years, the event often saw the likes of Governor John H. Sununu, White House Chief of Staff under President George H.W. Bush, and father of now-Governor Chris Sununu.
Now in 2017, the Sununu family turned out once again for the North Conway hospital's cause, with John Sununu and wife Nancy playing in the tournament with Memorial's president and CEO Scott McKinnon, and Governor Chris Sununu making an appearance at the awards dinner.
The event benefits Memorial's Let's Go program. The program serves 12 sites around the Mt. Washington Valley such as schools, pre-schools and daycare centers, to help them work towards receiving official "Let's Go" program certification. Let's Go is an evidence based program that works to reduce childhood obesity through better nutrition, more exercise and less screen time. The results are impressive. At "Let's Go" sites' school, child care and after school programs, almost 2,000 students were impacted by "Let's Go". Schools and sites are limiting unhealthy choices for snacks and celebrations, eliminating sugary beverages and limiting recreational screen time.
Last year, the event raised over $52,000 which supported the program. The event has raised over $850,000 over its long history, purchasing many pieces of life saving equipment and supporting community health programs.
For more information, go to www.memorialhospitalnh.org/golf.
2017 Memorial Hospital Open Results
1st Place Mixed $300
Will Owen/ Colin Wroblewski/ Devin Copsey/ Michelle Ramsey 57
1st Place Ladies $300
Debbie Bryant/ Sue Wiley/ Jessica Ross/ Barbara Pinkham 69
1st Place Men $300
John Idoine/ Ryan Gooden/ Justin Zinn/ Thomas McDonough 54
2nd Place Mixed $240
Jack Rowe/Chris/Rowe/Fred O'Neil/Lynn Anderson 61
2nd Place Ladies $240
Kim McKinnon/Sheila Duane/Michelle Capozzoli/Ellen Oblenbusch 71
2nd Place Men $240
Bayard Kennett/Dan Jones/ Pat Kittle/Mark Patterson 56
3rd Place Mixed $160
Bill Caron/Mark Harris/Al Swallow/Mechelle Connolly 61
3rd Place Ladies $160
Mary Vigeant/ Arlene Mrozowski/Patty Keane/Amy Russo 94
3rd Place Men $160
Don Newton/Brett Newton/Peter Pettengill/Mathew Phillips 61
4h Place Mixed $120
Mary Deveau/Peter Deveau/Mike Green/Andrew Green 63
4t Place Men $120
Christopher Walkley/Bill Zafferson/John Aubin/Bill Jones 63
Closest to the Pin
Hole #16 Ladies Michelle Ramsey 22' $25
Hole #16 Men Jack Rowe 7'2" $25
Hole #5 Ladies Lynne Anderson 23'8" $25
Hole #5 Men Mike Green 7'3" $25
Long Drive
Hole #12 Ladies Jessica Ross $30
Hole #12 Men Curtis Tinker $30
https://www.wmwv.com/wp-content/uploads/2022/03/logo-1.jpg
0
0
Tony
https://www.wmwv.com/wp-content/uploads/2022/03/logo-1.jpg
Tony
2017-07-25 13:23:26
2017-07-25 15:16:47
2017 Memorial Hospital Open Golf Tournament Grosses Over $50,000 to Support Let's Go Childhood Wellness Program