4 Vehicle Accident In Franconia Notch Caused By Snow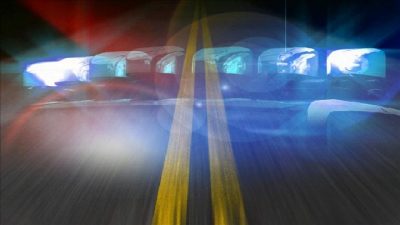 TWIN MOUNTAIN, NH – An multi-vehicle accident in Franconia Notch proves that no good deed goes unpunished. State Police Troop F reported that at around 2:15pm Wednesday 42-year- old Paul Haynes of Montpelier, VT, had lost control of his 2015 Ford Transit Van as he was heading northbound on Interstate 93 near exit 35. Police said that Haynes had failed to negotiate a curve on a roadway that was covered with a film of slush after some light snow. The van drove off the right side of the roadway, went several hundred feet striking multiple rocks, ending up in the embankment. Authorities said that Haynes was not injured as a result of this accident.
Just after Haynes crashed 54-year-old Tammy Simoneau of Newport, VT, stopped her 2016 Mercedes Sprinter van to help.
Moments later 34-year-old Eric Brant of Chelsea, MA ended up losing control of his 2009 Nissan Murano while heading northbound and sideswiped Simoneau's van, which was parked in the breakdown lane. As a result the Nissan continued into the median and onto the southbound lane.
Within seconds of that collision, 44-year-old Olagoke Owojori of Portland, OR lost control of his 2018 Ford F150 slamming into the rear of Simoneau's van, that was still parked in the breakdown lane.
Five people were transported to the Littleton Regional Hospital for evaluation and treatment of some minor to moderate injuries.
Police said that the roadway was closed for 2 hours to allow emergency personnel to remove the injured and tow all 4 vehicles from the scene. Vehicles were diverted off exit 35 and re-routed back at exit 36 causing minimal effects on traffic flow.
State Police were assisted by the Franconia Police Department, Sugar Hill Police Department, NH DOT, Franconia Fire and EMS. B&B and Arnolds Towing services assisted with vehicle removal.
The State Police wanted to remind drivers that as the state transitions from Autumn to Winter weather, the roads appearing to be wet can potentially be covered with ice or slush.
https://www.wmwv.com/wp-content/uploads/2022/03/logo-1.jpg
0
0
Tony
https://www.wmwv.com/wp-content/uploads/2022/03/logo-1.jpg
Tony
2018-10-18 09:24:06
2018-10-18 09:24:06
4 Vehicle Accident In Franconia Notch Caused By Snow