58th Annual Northeast Delta Dental Mount Washington Road Race Results
The top male finishers (left to right), Eric Blake, Cesare Maestri and Sage Canaday . Maestri won with a time of 1:00:53. ~ Photo courtesy of Mt. Washington Auto Road
Pinkham Notch, NH – In typically high winds on New Hampshire's Mount Washington, Cesare Maestri of Italy became the first European to win the Northeast Delta Dental Mount Washington Road Race. Making his first-ever appearance on the historic Mt. Washington Auto Road, Maestri, 24, of Borgo Lares, Italy, pulled away from three-time Mount Washington winner Eric Blake at the halfway mark and ran the rest of the way alone, winning in a time of one hour and 53 seconds. Blake, 39, of West Hartford, CT, ran shoulder to shoulder with Maestri for the first half of the race but then could not continue to match the Italian's seemingly effortless pace. Blake finished second in 1:01:53.
Kim Dobson won the ladies again making this her 5th win. ~ Photo courtesy of Mt. Washington Auto Road
In the women's race, Kim Dobson, 34, of Eagle, CO, dropped the rest of the field at the start and ran to the 6288-foot summit of Mt. Washington alongside some of the fastest men to finish in 1:11:43. Not only did Dobson win this grueling race for the fifth time in as many attempts, but she placed seventh overall, nine seconds behind former Mt. Washington champion Simon Gutierrez of Alamosa, CO.
Hers is the highest finish for a woman in the race's 58-year history. Second was Heidi Caldwell, 26, of Craftsbury Common, VT in 1:14:55. Shelley Doucet of Quispamsis, New Brunswick, took third in 1:16:29.
"The first part was the most steep," remarked Maestri, who was seeing the Auto Road for the first time. "In the next part it was more easy to go fast, but then the wind starts to get stronger, and it was very difficult to run, because the wind also changes direction."
"That wind at times was so strong," said Dobson, "that you throw your idea of time out the window and just say, 'Well, here we go!'"
Jeffrey Allen, 17, of Litchfield and Kassandra Marin, 28, of Merrimack won the Crossan Cup, awarded to the first male and female New Hampshire finishers. Allen finished thirteenth overall and first in his age group with a time of 1:14:33. Marin placed fifth among all women in 1:17:13.
98-year-old George Etzweiler making his way up to the 6 mile marker in his 13th NEDD Mount Washington Road Race.~ Photo courtesy of Mt. Washington Auto Road
In the early going, Andy Wacker, 29, of Boulder, CO, set the pace along with Blake, passing the first mile in a brisk six minutes 45 seconds. Maestri, 2012 winner Sage Canaday, also of Boulder, and Lee Berube of Syracuse, NY, followed them. Wacker could not sustain the pace, and by three miles he dropped back as Maestri caught up with Blake while Canaday moved into third.
"I was looking to try to win," said Wacker later, as the runners wrapped themselves in blankets at the summit. "I had been training hard. But there's such great competition here."
Canaday stayed within sight of the leaders for much of the way but could not close the gap. Having finished second here last year, he finished third this time in 1:03:11. "I like this race!" he said. "It's a real healthy pain. My legs were burning the whole time."
Like Maestri, Heidi Caldwell was seeing the ultra-steep Auto Road (average grade 12 percent) for the first time. "I started out cautiously," she said later. "I knew it was hard, but I chose not to read any detailed descriptions of how hard!"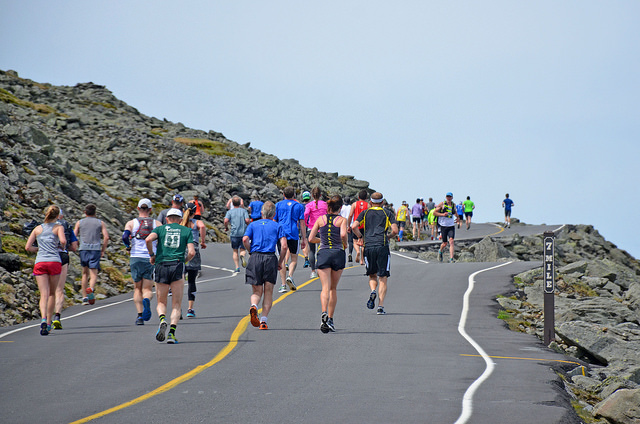 Top prizes for runners over the age of 40 went to two former Mount Washington champions. Gutierrez, 52, who won in 2002, 2003 and 2005, placed sixth overall this time in 1:11:34. Laura Haefeli, 50, from Del Norte, Colo., the 2013 winner, placed eighth among all women in 1:20:48.
Full race results are available at www.gsrs.com/results/3548
https://www.wmwv.com/wp-content/uploads/2022/03/logo-1.jpg
0
0
Tony
https://www.wmwv.com/wp-content/uploads/2022/03/logo-1.jpg
Tony
2018-06-18 11:17:20
2018-06-18 11:17:20
58th Annual Northeast Delta Dental Mount Washington Road Race Results