Brandi Carlile & Jason Isbell Ticket Give Away!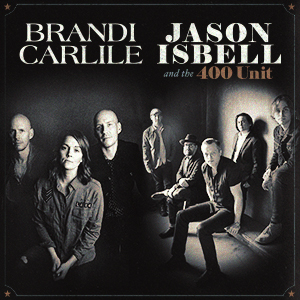 Sunday July 22nd, 2018 – 7:30 p.m. @ Bank of New Hampshire Pavilion
Tune in TO 93.5 WMWV July 16th to july 20th for your chance to win tickets to see Brandi Carlile, and Jason Isbell and the 400 Unit live at Bank of New Hampshire Pavilion at Meadowbrook!
Brandi Carlile
Since her heralded, genre-defying 2005 Columbia debut, Brandi Carlile and her indispensable collaborators, Tim and Phil Hanseroth, aka The Twins, have always offered listeners both control and abandon, often within a single song. The most well-known Brandi Carlile tunes, 2007's "The Story" and 2012's "That Wasn't Me," are dynamic journeys in themselves, encompassing myriad emotions and varied stylistic touches; "The Story" morphs from understated balladry to epic stadium rock, while "That Wasn't Me" effortlessly straddles country soul and pop gospel. Infused with Carlile's clarion voice, The Twins' tight sibling harmonies, and stellar musicianship from everyone, it all simply sounds like Brandi Carlile. Now coming off of her new album "By The Way, I Forgive You", Brandi is ready to share "story of forgiveness, that despite all this keeps us innocently climbing out of bed every morning open to love—big terrible trembling love."
Jason Isbell and the 400 Unit
Jason Isbell and the 400 Unit's new album, The Nashville Sound, is a beautiful piece of American music-making, but watch yourself: it will light a fire under your ass. "You're still breathing, it's not too late," Jason sings. This album is a call, and the songs on it send sparks flying into a culture that's already running so hot the needle on the temperature gauge is bouncing erratically in the red. And while it's understandable that, in this moment, some people want their radio to help them drift away, this finely calibrated set of ten songs is aimed right between the clear eyes of people who prefer to stay present and awake. It's a call to those who won't cower no matter how erratically the world turns, and who aren't afraid of what looks back when they look in the mirror. Bruce Springsteen did that. Neil Young did that. Jason Isbell does that.
It's also worth noting that this album isn't credited to Isbell alone. For the first time since 2011's Here We Rest, Isbell's band, the 400 Unit, gets title billing. "Even when I was writing, I could always hear the band's stamp on the finished product," Jason says. "These songs needed more collaboration on the arrangements to make them work, and I felt like the band deserved it after the way they played." Given Cobb's strict insistence on cutting songs live with no demos or rehearsals, you can easily imagine how the brilliantly raw performances on the record will translate to the stage when the band takes these new songs out on the road. And boy, there's nothing like a 400 Unit show. Not just because the band smokes, but also because Isbell's fans are among music's most ardent. They listen to these songs for months and months on their own, and that momentum rolls them right up to the doors at the Ryman Auditorium in Nashville, or the Beacon Theatre in New York or the Fabulous Fox Theatre in Atlanta. And when the band kicks in, they are ecstatic. It's a rock 'n' roll show that feels like fellowship.

https://www.wmwv.com/wp-content/uploads/2022/03/logo-1.jpg
0
0
Tony
https://www.wmwv.com/wp-content/uploads/2022/03/logo-1.jpg
Tony
2018-07-12 10:13:17
2018-07-12 09:19:10
Brandi Carlile & Jason Isbell Ticket Give Away!