Cynthia's Challenge Chooses 2018 Beneficiary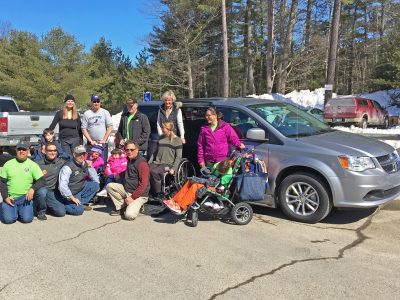 MADISON, NH – Cynthia's Challenge has announced the next beneficiary of the 24-Hour Ski-A-Thon to be held at King Pine Ski Area in East Madison, New Hampshire March 16-17, 2018.
All funds raised with this year's event will benefit Freedom, New Hampshire's Jacques Villeneuve, a nine-year-old boy who was born missing the main wiring between the left and right hemispheres of his brain, Agenesis of the Corpus Callosum.
He has also been diagnosed with Diplegic Spastic Cerebral Palsy an intellectual disability which pose both physical and mental challenges. Jacques' parents have to physically lift him into their vehicle every time they plan on going anywhere and then have enough room for storage for his walking assistance devices.
This year's goal is to raise $65,000 to purchase Jacques' family a wheelchair accessible van.
Jacques is a naturally happy and motivated nine year old who loves spending time outdoors and speaking with everyone he meets. Jacques cannot walk long distances without taking many of rest breaks and is in need of a handicap van to become more independent.
A wheelchair accessible van would be of incredible assistance to the Villeneuve family to get Jacques and his seven year old sister, Melanie, to their daily activities and appointments.
Now in its fifth year, Cynthia's Challenge 24-Hour Ski-A-Thon has raised over $181,000 to benefit children and their families. Starting in 2014, Cynthia Verrill was the first benefactor and resulted in her name being used to name the event. $35,000 raised for Cynthia was used to provide a seizure detecting service dog.
The second year, the event raised over $35,000 for Samantha Gillard who was in need of a wheel chair accessible van and the third year raised $61,000 for Kevin Dall to purchase a wheel chair accessible van and the fourth year raised over $50,000 for Faith Holt with more than 250 skiers and snowboarders participating to purchase a wheel chair accessible van.
Cynthia's Challenge was created in an effort to ease the financial burden upon children and their families associated with specialty medical needs.
King Pine Ski Area supports Cynthia's Challenge with the support of local business and the surrounding community. Cynthia's Challenge would not be possible without the generosity of major sponsors Atlas Fireworks, Bank of NH, Bolt Depot, Flatbread Company of North Conway, Granite State Adaptive, King Pine Ski Area, Mad Cow Screen Printing, Outdoor Escapes New Hampshire, Pepsi Co., Ride Away – MobilityWorks, Story Land, Thrivent Financial, Vertical Challenge and Yankee Smokehouse.
Story contributed by:
Alexandra Moore
Marketing Coordinator
https://www.wmwv.com/wp-content/uploads/2022/03/logo-1.jpg
0
0
Tony
https://www.wmwv.com/wp-content/uploads/2022/03/logo-1.jpg
Tony
2018-02-15 15:34:39
2018-02-15 15:34:39
Cynthia's Challenge Chooses 2018 Beneficiary