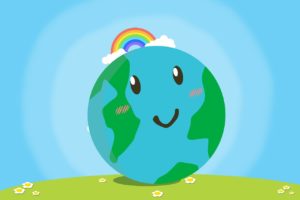 There are some positives to humans isolating, staying at home, consuming less and polluting less.  On this, the 50th Anniversary of Earth Day we find ourselves in the middle of a pandemic.  However in the midst of it, studies show that the earth is repairing itself and species are allowed to thrive.  This is a good thing for us, for our children, for our future.
This year we have to celebrate either at home or at a distance from one another but there are many ways to do this.  Here are a few ideas:
Spread some earth love online with home made projects, poems or songs. There are plenty of ideas on Pinterest of age appropriate crafts you can make.  Pinterest also has some great starter lines for stories and poems…  When you're done, post them online for your friends and family to see what the earth means to you today.  It's guaranteed to bring awareness and smiles.  We all miss each other and love the positive posts.
Learn something new. Learn about endangered species, how you can help them, volunteer or donate to organizations dedicated to saving them.  Learn how the earth is healing because it's less impacted by humans. Learn how to plant a tree, a garden, a flower, anything living.  Find out what it takes to make a bat house or a bird house.
Take the Earth Day Challenge: a 22 day series that gives you action items to protect the environment. They're all online at the Earth Day Network.  You can add your own actions with the hashtag #earthday2020
Join Columbia University's webinar Saturday, April 25th "Understanding Environmental Justice and Community Health in light of Covid and Climate". 
Get on the NASA website for resources from across the agency sharing their wealth of knowledge through games, books, images, posters and programs. These are free to everyone.
Watch environmental films. For younger kids or kids at heart there's The Lorax, Schoolhouse Rock, March of the Penguins, Bears and Wall-E for example.  Other favorites include Our Planet, Food, Inc. as well as an Earth Day celebration on Turner Classics.
Check out the Smithsonian's Earth Optimism Digital Summit– today through Sunday. It's packed full of information, virtual workshops, video competitions, and panels on everything from sustainable food to protecting biodiversity.
Take the earth into consideration when you're voting.
Hug a tree or just put your bare feet on the ground or your hands in the earth or your favorite river, stream or lake and listen quietly to the world around you.
Whatever you do today, it's a celebration of the planet that houses us all.  And just like we're taking precautions now to protect one another, our families, our friends, our co-workers, strangers… let's watch the affect and bring some of our care out of this and forward in the future to our Mother Earth.
"The earth is what we all have in common". ~ Wendell Berry
https://www.wmwv.com/wp-content/uploads/2022/03/logo-1.jpg
0
0
Shannon
https://www.wmwv.com/wp-content/uploads/2022/03/logo-1.jpg
Shannon
2020-04-22 14:52:30
2020-04-22 15:34:26
HAPPY 50TH EARTH DAY <3