L.S.D. Tour Ticket Give Away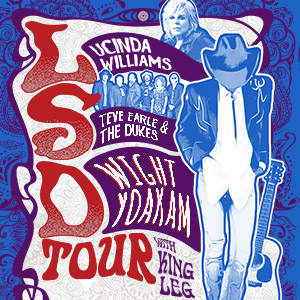 Saturday, June 16, 2018 – 6:30pm @ Bank of New Hampshire Pavilion
Tune in all this week for your chance to win tickets to the Nation of Two World Tour, featuring Lucinda Williams, Steve Earle & The Dukes, and Dwight Yoakam featuring King Leg courtesy of our good friends at Bank of New Hampshire Pavilion at Meadowbrook!
Lucinda Williams  For the past 30 years, Lucinda Williams has channeled her perspective as a proud but vulnerable Southern female into a string of stellar albums, each of which weave rock, country, folk and blues so tightly that each of the elements seems to disappear. Lucinda Williams (1988) was her breakthrough disc, but her magnum opus, 1998's Car Wheels on a Gravel Road, sealed her reputation as a formidable singer-songwriter. Ruminating on disappointments, fretting over lost friends, and celebrating the subtlest of life's joys, it was an obvious masterpiece that resounds with immediacy. The daughter of a poet father (Miller Williams) who was both college professor and Hank Williams zealot, Williams grew up listening to classic country. She was born in Louisiana, but her family relocated several times during her childhood to spots across the South, as well as Mexico City and Santiago, Chile. At 16 she discovered the writing of Southern novelist Flannery O'Connor, whom she cites as a major influence on her songwriting. Williams attended college for a short time but dropped out in 1971 to devote herself to music.
To date she has released 12 studio albums. In May 2017, Lucinda was awarded an Honorary Doctorate of Music from Berklee College of Music during the 2017 Commencement Concert. In June, Rolling Stone named Williams one of the 100 Greatest Country Artists of All Time. Later that year, she re-recorded and expanded her 1992 "Sweet Old World" album, this time titled "This Sweet Old World". We are happy to welcome Lucinda and her band Buick 6 back to the Bank of New Hampshire Pavilion stage.

Steve Earle & The Dukes If you ever had any doubt about where Steve Earle's musical roots are planted, his new collection, So You Wannabe an Outlaw, makes it perfectly plain. "There's nothing 'retro' about this record," he states, "I'm just acknowledging where I'm coming from." So You Wannabe an Outlaw is the first recording he has made in Austin, Texas. Earle has lived in New York City for the past decade but he acknowledges, "Look, I'm always gonna be a Texan, no matter what I do. And I'm always going to be somebody who learned their craft in Nashville. It's who I am." Earle began playing music in 1974 as part of Guy Clark's band. A disciple of the Nashville scene he learned songwriting from legends like Guy Clark and Townes Van Zandt. Later Earle grew tired of Nashville and moved back to Texas where he formed The Dukes. With a career spanning over 40 years he has released 15 studio albums and continues to sing about and fight for causes that are close to his heart.

Dwight Yoakam Since the start of his music career, Dwight Yoakam has proven he's more than just another guy with a guitar and a hat. He has risen from hot country star to being one of country music's biggest influences. While doing that, he has also become a critically acclaimed actor. Dwight Yoakam was born in the coal mining community of Pikeville, Kentucky, October 23, 1956. Playing traditional country music, Dwight gained a following among not only country fans but punk rockers and rockabilly fans as well. This eclectic fan base brought him to the attention of many record labels. Yoakam has recorded more than twenty albums and compilations, charted more than thirty singles on the Billboard Hot Country Songs charts, and sold more than 25 million records. He has recorded five Billboard #1 albums, twelve gold albums, and nine platinum albums, including the triple-platinum This Time. Johnny Cash called Yoakam his favorite modern country singer. He returns to the BNHP stage after an incredible set last year opening for country music titans, Alabama.
https://www.wmwv.com/wp-content/uploads/2022/03/logo-1.jpg
0
0
Tony
https://www.wmwv.com/wp-content/uploads/2022/03/logo-1.jpg
Tony
2018-06-11 05:00:31
2018-06-11 09:09:37
L.S.D. Tour Ticket Give Away