Mt. Washington Avalanche Turns into Safety Lesson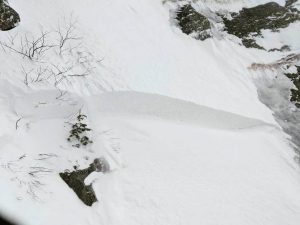 GORHAM — U.S. Forest Service snow rangers hope Mount Washington's first avalanche of the season will be a catalyst for a newly launched initiative to teach school kids and the public how to be safer on the highest peak in the Northeast.
Frank Carus, the lead snow ranger, said two climbers were uninjured after triggering "a small avalanche" on Dec. 1 in Central Gully in Huntington Ravine, on the northeast side of the mountain.
Between 80 and 100 avalanches are reported on the mountain annually, he said.
"The slab was up to 18 inches thick and it looked like a pretty small avalanche, just a ribbon of snow," Carus said.
Dec. 1 is when Carus, three fellow snow rangers and avalanche dog Lilly take over primary search-and-rescue operations in both Huntington and Tuckerman ravines from the New Hampshire Fish and Game Department.
It was in Huntington Ravine on March 1, 2013, that an avalanche last claimed a life on Mount Washington — James "Jimmy" Watts in Pinnacle Gully.
Carus said the Dec. 1 avalanche had the same potential as the one that claimed Watts' life because even "small avalanches can be particularly dangerous in early season conditions in that you can get driven into boulders poking out of the snow."
The snow rangers took to social media last week and decided to use the avalanche as an opportunity to talk about the White Mountain Avalanche Education Fund.
Established seven years ago, the fund pursues "avalanche knowledge" and delivers "avalanche education" by providing scholarships for participation in a certified avalanche course, clinic or seminar.
Scholarships are open to students in grades six to 12 from the northeastern United States; from school systems in Coos, Carroll, and Grafton Counties in New Hampshire and Oxford County in Maine; as well as from active volunteer mountain rescuers.
The fund has also been working to develop educational material "to benefit youth and adult residents, or those visiting the mountains of New Hampshire." An initial public outreach workshop was recently held in Portland, Maine.
Carus said the goal is to offer similar workshops in the Granite State and complete a "snow-science curriculum for schools that will tie in science and math with the changes that the snow goes through and touch on back-country avalanche conditions."
Carus recommends checking the daily condition reports from the Mount Washington Avalanche Center.
On Mount Washington, avalanches happen with "regularity," he said, adding some are caused by storms, not human beings.
https://www.wmwv.com/wp-content/uploads/2022/03/logo-1.jpg
0
0
Lucia
https://www.wmwv.com/wp-content/uploads/2022/03/logo-1.jpg
Lucia
2017-12-11 15:43:17
2017-12-11 15:43:17
Mt. Washington Avalanche Turns into Safety Lesson