Search Continues for Missing New Jersey Man in the White Mountains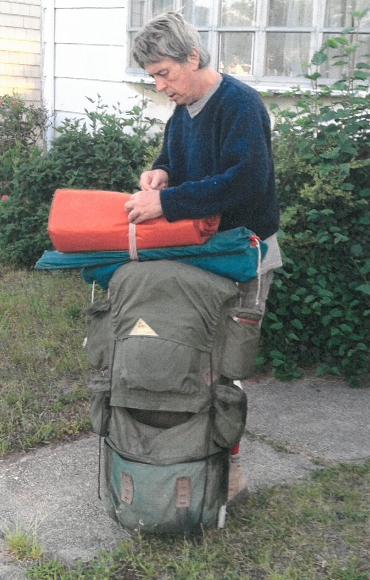 CUTTS GRANT, NH – The search continued today (July 17, 2017) for Gregory Auriemma, age 63, of Brick, New Jersey, who was reported last week as missing in New Hampshire's White Mountains. The New Hampshire Fish and Game Department initially worked off his last known location (North Conway), and later in the week developed information that he had stayed in the area of the Mizpah Spring Hut in Bean's Grant on or about June 28.
Further information was then obtained linking Auriemma to an abandoned campsite near the Dry River Trail in Cutts Grant. A Fish and Game search and rescue team confirmed on Saturday (July 15) that the abandoned campsite was Auriemma's. A ground search of the Dry River drainage was conducted by that search team and the area was also searched by air with a New Hampshire National Guard Blackhawk helicopter. Hikers in that area were interviewed by Fish and Game Conservation Officers to try to obtain additional information. The Dry River area is a very remote portion of the White Mountains; searchers must hike approximately four hours to access the area to begin searching.
Authorities are asking the public for any information available from hikers who have been in this area and may have met up with Auriemma; if you have any information, please call (603) 271-3361. Additional on-the-ground search assistance is not being requested at this time.
The search is likely to be scaled down after today, depending on what is found, according to Fish and Game Lt. Bradley Morse.
Fish and Game Conservation Officers have been assisted in the search by the Upper Valley Wilderness Search and Rescue, New England K-9 Search and Rescue, Pemigewassett Valley Search and Rescue, the Appalachian Mountain Club, US Forest Service, a NH State Police search team, Androscoggin Valley Search and Rescue, and NH State Forest Rangers.
Story Courtesy of:
Lt. Bradley Morse: (603) 271-3361
Lt. Heidi Murphy: (603) 271-3127
https://www.wmwv.com/wp-content/uploads/2022/03/logo-1.jpg
0
0
Tony
https://www.wmwv.com/wp-content/uploads/2022/03/logo-1.jpg
Tony
2017-07-17 17:27:07
2017-07-17 17:27:07
Search Continues for Missing New Jersey Man in the White Mountains