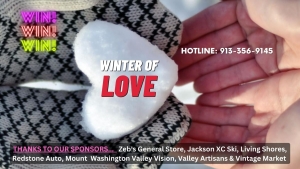 LOVE HOTLINE: 913-356-9145
GIVE A SHOUT OUT TO YOUR FRIENDS, YOUR CO-WORKERS, YOUR KIDS, YOUR DOCTORS AND NURSES, YOUR SERVICE INDUSTRY PEOPLE, YOUR TEACHERS, YOUR PLOW PERSON, OUR FIRST RESPONDERS, EVEN YOUR PETS- WHO DO YOU WANT TO A MESSAGE TO?
CALL OUR WINTER OF LOVE HOTLINE AND LEAVE YOUR KIND WORDS AND KEEP LISTENING, BECAUSE WE'LL BE PLAYING YOUR MESSAGE ON AIR, AND YOU MAY EVEN HEAR ONE ABOUT YOU! AND, BETTER YET, YOU'LL BE ENTERED TO WIN OUR WEEKLY FRIDAY MORNING PRIZE.
FOR UPDATES ON THE WINTER OF LOVE, PLEASE KEEP TUNING IN, OR CHECK OUR FACEBOOK PAGE.
A MOUNT WASHINGTON VALLEY RADIO GROUP SHOUT OUT TO OUR SPONSORS:
CONWAY SCENIC RAILROAD
JACKSON CROSS COUNTRY SKI TOURING
LIVING SHORES AQUARIUM
MOUNT WASHINGTON VALLEY VISION
REDSTONE AUTO
ZEBS GENERAL STORE
VALLEY ARTISANS AND VINTAGE MARKET