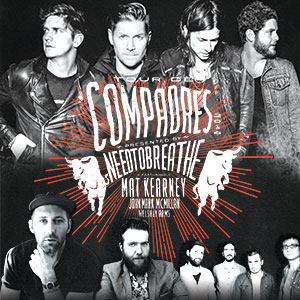 Remember these guys in our Studio? 
Monday, April 11 – Friday, April 15 we're giving away win em' before you can em's to the Tour of Compadres, with NeedToBreath, Mat Kearney and John Mark McMillan! Listen for the cue to call and dial (603)356-9930, and you could be heading to Bank of New Hampshire Pavilion at Meadowbrook on Tuesday, August 23, 2016!
NeedtoBreath – Grammy Award nominated American Rock band NEEDTOBREATHE effortlessly weaves musical traditions and faith of their upbringing in the Deep South. Band mates and brothers Bear and Bo Rinehart, together with Seth Bolt and Josh Lovelace made the big time in 2005 signing with Atlantic/Word Records. With chart-topping genre-crossing success and multiple headlining tours NEEDTOBREATHE has even enjoyed media coverage with CONAN, The Ellen Degeneres Show, The Tonight Show with Jay Leno, Late Night with Jimmy Fallon and more. Their critically acclaimed album Rivers in the Wasteland debuted at No. 3 on the Billboard 200 list with their smash hit "Brother".
Mat Kearney – Introduced to the music industry with producer Robert Marvin on a trip to Nashville, Mat Kearney began focusing his music fusing his simple guitar playing with spoken word or rap. Mat decided to stay in Nashville and released Nothing Left to Lose in 2006 landing on the Billboard Hot 100 chart and featured the track "All I Need" which appeared on both Grey's Anatomy and NCIS.
John Mark McMillan – Breaking through in the Christian music industry, John Mark McMillan released his debut album, Hope Anthology, Volume 1, in 2002. Hailing from North Carolina, McMillan brings an Alternative Rock sound with heartfelt lyrics, writing about personal experiences; stating, "I want to inspire people to say what they feel and not what they feel like they're supposed to say."
{ Comments on this entry are closed }