Funky (adj) –

in a style that is informal and unusual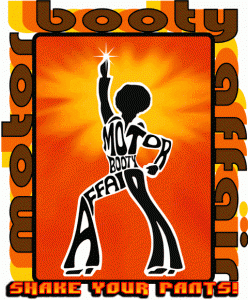 Mark your calendars for Monday, July 4, 2016…it's Independence Day, officially funkified by Motor Booty Affair, returning to Schouler Park in Mount Washington Valley!
That's right…the Town of Conway is putting on one of the funkiest, freshest celebrations it's ever seen, and we want to see you and your entire family there! Get out those bellbottoms, shades, and dancin' shoes right now, then check out the calendar below:
Conway Village:
1:30pm – Independence Day Parade
North Conway Village (Schouler Park):
3:45pm – National Anthem (Robin Croce)
4:00pm – Act One Dance Company
5:00pm – Abby Logan
6:00pm – The Starlight Honey's (WMWV Song of the Year Winner)
7:30pm – Motor Booty Affair
9:30pm – Fireworks
This funkadelic day is presented by the Town of Conway and Mount Washington Radio Group (WMWV and WVMJ – Magic), and sponsored by Zeb's General Store, Greg Gerard – Geico, The Mount Washington Valley Chamber of Commerce, and RWN Property Services.