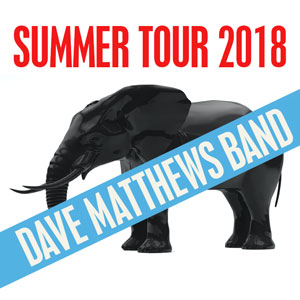 All this week (June 7- June 11) Tune into 93.5 WMWV for your chance to see Dave Mathews Band live at the Bank Of NH Pavilion. He'll be performing Tuesday June 12th & Wednesday June 13th.
The Dave Matthews Band exploded in the 1990s with its hybrid of jazz, folk, and world music, all of which were channeled through Matthews' distinct pop sensibility. Often associated with the decade's jam-band movement, DMB started as a college favorite. By the end of the decade, Matthews' introspective lyrics and distinctive vocal timbre resonated through stadiums across the U.S. In the new millenium, the band continued to evolve, releasing one of their strongest, most complex studio album, 2009's Big Whiskey and the Groogrux King, after the untimely death of founding sax player Leroi Moore.
Dave Matthews Band has sold a collective 37 million CDs and DVDs combined. With 2012's Away From The World entering the Billboard 200 at No. 1 in 2012, Dave Matthews Band became the first group in chart history to have six consecutive studio albums debut atop the chart. The band ranked as the biggest ticket seller worldwide of the past decade and has sold over 18 million tickets since its inception.
In 2014, DMB's early history was celebrated with a limited edition Record Store Day release of Live Trax 4, a 20th anniversary reissue of Remember Two Things, a Black Friday Record Store Day release of Recently featuring the rare "Pumpkin" release alongside the original EP, and Under The Table And Dreaming – all available for the first time ever on vinyl. Volumes 29, 30, 31 and the CD/DVD package of 32 from the Live Trax series were released over the course of the year.
Worried you may not win? Then pick up your tickets now at Bank Of NH Pavilion.