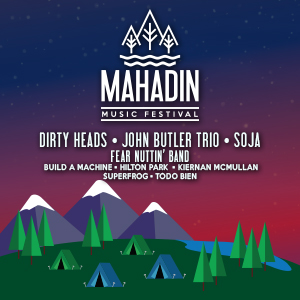 Win tickets this week, Monday, July 6 – Friday, July  10…just listen for the cue to call and dial (603)356-9930, and you could be heading to Bank of New Hampshire Pavilion at Meadowbrook to see  Dirty Heads, John Butler Trio, Soja and many more live on Sunday, July 12, 2015!
The John Butler Trio is an eclectic roots/jam band from Australia led by guitarist and vocalist John Butler. They have independently released five studio albums, the last three of which debuted at #1 in Australia, and have had eight Top 40 singles. Having developed a great reputation as a live act, the band have also released three live albums.
The John Butler Trio was formed in 1998 when Butler was joined by Gavin Shoesmith on bass and Jason McGann on drums, and by the end of that year had recorded their debut album John Butler.
In 2007, the John Butler Trio won the for Best Performing Independent Album as well as Best Independent Release and Best Blues and Roots Album at the ARIA Awards. In 2010, the John Butler Trio received the award for Most Popular Independent Artist at the Australian Independent Record (AIR) Awards while April Uprising was nominated at the ARIA Awards for 'Best Blues and Roots Album' and 'Best Independent Release.
Dirty Heads. The Sound of Change can't come from external forces, it has to emanate from within. For Dirty Heads, evolution beyond their reggae-rock roots has developed over time and is manifested on their new album Sound of Change.
The band's breakout 2008 album Any Port In The Storm included the chart-topping hit track Lay Me Down which features current Sublime frontman, Rome. The track had an incredible run for eleven weeks at #1 on the Billboard charts, laying a solid foundation for their follow up sophomore album Cabin By The Sea which was released in 2012. Dirty Heads then began their musical metamorphosis with their 2013 acoustic album Home – Phantoms Of Summer, allowing time for their metamorphosis embodied in Sound of Change.
Their own journey can be heard within the album– all you have to do is sit back and listen.
SOJA is an American Grammy-nominated pop reggae band. Formed in 1997, their music is currently produced under ATO Records. The eight-member band has released a number of singles, albums, and DVDs, including SOJA – Live in Hawaii. Their third full-length album Born in Babylon peaked at #11 on the Top Heatseekerschart while their 2012 album Strength to Survive topped the Billboard Reggae Album Chart. The band continues to tour and record new music.
The album topped the Billboard Reggae Albums chart, and received a Grammy nomination in the 'Best Reggae Album' category.

{ 0 comments }