Cranberries Dolores O'Riordan Dead At Age 46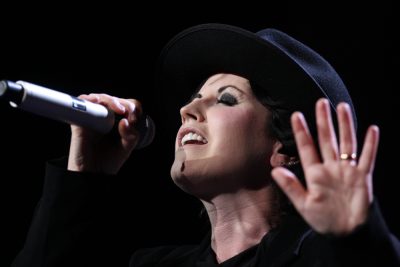 LONDON, ENGLAND – The lead singer of the Cranberries Dolores O'Riordan passed away today in London at age 46. According to the Rolling Stone the band's publicist released a statement confirming  O'Riordan's death.
The Statement said "Irish and international singer Dolores O'Riordan has died suddenly in London today. She was 46 years old. The lead singer with the Irish band The Cranberries was in London for a short recording session. No further details are available at this time. Family members are devastated to hear the breaking news and have requested privacy at this very difficult time."
No cause of death has been revealed.
According to BBC News O'Riordan was reported to have unspecified back problems, which caused the cancellation of the second part of the Cranberries most recent European tour, although in late 2017 O'Riordan claimed to have been recovering and performed at a private event.
WMWV sister station Magic 104 Morning Show host Gino Devaney had a chance to interview O'Riordan last year about their latest album. You can listen to the interview below.
O'Riordan was the lead singer of The Cranberries for 13 years before the band took a break starting in 2003, reuniting in 2009.
According to wikipedia Dolores Mary Eileen O'Riordan was born and brought up in Limerick, Ireland. She is survived by her three children, who she had with her ex husband and former Duran Duran tour manager Don Burton.
https://www.wmwv.com/wp-content/uploads/2022/03/logo-1.jpg
0
0
Tony
https://www.wmwv.com/wp-content/uploads/2022/03/logo-1.jpg
Tony
2018-01-15 14:13:28
2018-01-15 14:13:28
Cranberries Dolores O'Riordan Dead At Age 46